Volunteers Help At Stapleford's Christmas Clean Up
Volunteers burnt off their Christmas dinners yesterday at a tree planting and litter pick at Ilkeston Road Recreation Ground, Stapleford as part of Broxtowe Borough Council's Clean and Green campaign.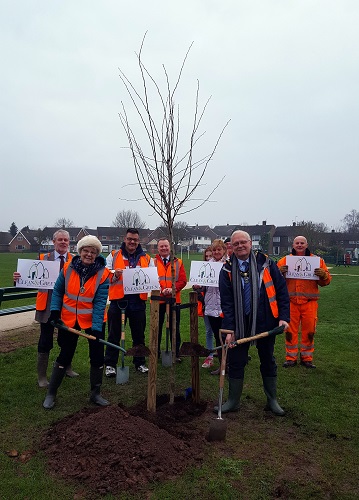 On Thursday 27th December, the Mayor of Broxtowe, Councillor Derek Burnett BEM was joined by volunteers from the Stapleford Community Group who helped plant six trees and carried out a litter pick of the Recreation Ground and surrounding areas as part of the Clean and Green campaign.
The trees were a mixture of Beech, Hawthorn and Cherry, all chosen for and their aesthetic value and benefit to wildlife.
The Borough Council's Parks Team assisted with the session, demonstrating planting techniques to ensure good establishment and healthy trees.
The Council's Clean and Green Campaign will see £72,000 invested in new initiatives to complement and enhance existing programmes to keep Broxtowe clean and tidy. These include:
Community litter picking events to complement existing events as part of the Community Clean Teams
Additional litter picking around the A610
Additional weed control in high priority areas
Mobile CCTV cameras at flytipping hotspot areas
Programme of 'Waste Days' to enable residents who do not live near household waste recycling sites to dispose of their bulky waste
Litter bin replacement in areas where there is high footfall including main roads, twitchells, parks and bus stops
Advertising clean and green initiatives on bin lorries to encourage community support
A special resource pack has been created for local groups and organisations who want to get involved and run their own litter pick events, to help them carry out activities safely, as well as promote them in their local area. The Council can also help by lending litter picking equipment.
---
---