£47,500 Nuthall Play Area Improvements Ready Just In Time For Summer
20/06/2018 Children in Nuthall were the first to test out the newly refurbished play area at Redbridge Drive next week, following £47,500 worth of play area improvements as part of the Pride in Parks scheme.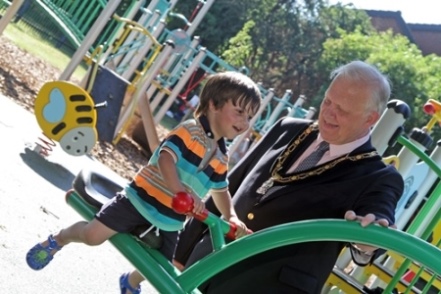 The site is the first to be solely funded from the Pride in Parks scheme and improvements are particularly aimed at younger children.
They include:
Play area extension with two areas of rubber surfacing
New equipment including a small trampoline, toddler play unit, basket swing, seesaw and a springy.
The two existing climbing units have been retained and refurbished.
Artificial grass on the football kickabout area has been upgraded and extended with two new bigger areas.
Chair of the Leisure and Environment Committee, Councillor Shane Easom said: "The Pride In Parks scheme will see £0.5 million invested in the Borough's parks and open spaces over the next two years to ensure that all residents in Broxtowe have an opportunity to benefit from green space. We'd like to thank residents who use Redbridge Drive Open Space who have been patient whilst the works took place and hope that local families will enjoy the play area  for years to come."
---
---