Ten Award Winning Years At Colliers Wood
24/7/18 MAYOR OF THE BOROUGH of Broxtowe, Councillor Derek Burnett BEM joined The Friends of Colliers Wood, along with Officers from the Council's Parks Team to celebrate its 10th consecutive Green Flag award.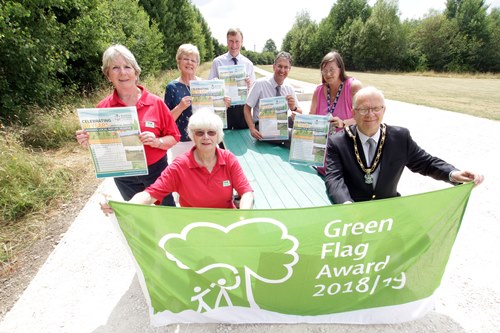 Green Flags are awarded in recognition of good maintenance standards, strong community involvement and appropriate facilities at parks and open spaces across the Country.
Chair of the Leisure and Environment Committee, Councillor Shane Easom said: "I'm so proud that we have retained the Green Flag award at Colliers Wood for the 10th consecutive year, along with retaining all of our other Green Flags in the Borough."
"We launched our Pride in Parks scheme earlier in the year and this year's Green Flag Awards go to show that we really do take pride in our Boroughs parks and open spaces."
To celebrate, the Council has also produced a list of 'Top Ten' things to do at Colliers Wood to help families enjoy the site throughout the year.
The Borough Council is also celebrating retaining the Green Flag at Bramcote Hills Park, and the borough's  Community Green Flag sites at Brinsley Headstocks, Alexandrina Plantation / Sandy Lane Open Space and Bramcote Old Church Tower.
---
---