Broxtowe Gains White Ribbon Accreditation
23/03/2018 Broxtowe Borough Council is delighted to announce that it has been awarded White Ribbon Campaign accreditation by White Ribbon Campaign UK.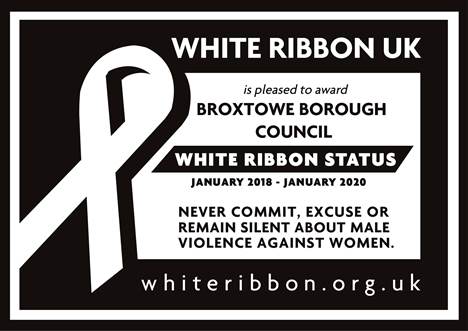 The White Ribbon Campaign aims to end male violence against women, once and for all. It promotes the message that men must never excuse, commit or remain silent about male violence against women.
Male violence towards women is shockingly prevalent, and we can only change society by promoting a message of respect and tolerance, and leading by example.
Staff, elected members and partner organisations at Broxtowe have been working hard in order to raise awareness about the White Ribbon Campaign and Domestic Abuse in all its forms, which also includes violence by women against men, as well as violence between partners in same sex relationships. An action plan has been developed for the borough council and its partners to effectively marshal their resources and personnel to challenge male violence against women and make a genuine difference.
Cllr Jan Goold, Broxtowe Borough Council's Chair of Community Safety, said;
"I am delighted the Council has achieved this accreditation. I would encourage men of all ages to take a few minutes to go on-line and take, and act on, the pledge to never excuse, commit, or remain silent about male violence to women.">/p>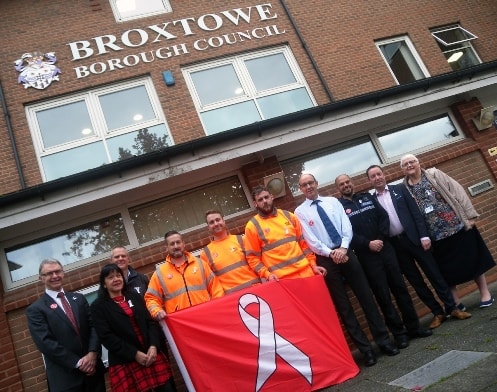 What is the White Ribbon Award?
The award is an official White Ribbon accreditation that entitles an organisation to White Ribbon training and campaigning guidance, use of White Ribbon branding on official documents and signage, and exclusive access to a network of other accredited organisations to promote fundraising, awareness and events.
Broxtowe Borough Council would like to thank staff, elected members, partner organisations and local communities for supporting this very worthwhile campaign. 
---
---