College Students Help Launch Owen Trust
09/03/18 - Monday 10th July 2017 was a tragic day. 12-year-old Owen Jenkins from Beeston Rylands went into the water at Beeston Weir and lost his life. He died a hero, having gone in to rescue two girls who were struggling in the strong currents. Owen managed to help the first girl to safety when he went back to save the second girl he was taken by the current and went under the water, the current was too strong, and sadly Owen drowned.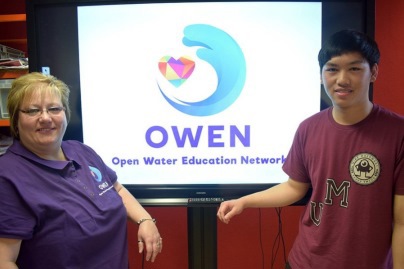 There is no more imaginable heartbreak for a parent but for Owen's mum Nicola, Owen's death could not and should not be in vain. She has persevered through grief this last seven months to set up the OWEN Trust – the Open Water Education Network – a programme that will deliver open water safety awareness to school-aged children and young people. For Nicola, this not only ensures that Owen's name lives on, but that Owen will continue to save lives, even after his death.
Reaching as many young people as possible is Nicola's goal and that's why she approached Nottingham College's creative media students for help.
Jon Laud, Head of Nottingham College's Creative Arts Faculty explains how:
"We all saw the tragic news of Owen's death in the local news and it really resonated with our students who are not much older than Owen was. Nicola approached the College to help in the setting up of the OWEN Trust, asking our students to come up with a brand and logo, something that not only conveyed Owen's spirit and personality, but that could be used alongside established brands which are partnering with the Trust, such as the Canal and River Trust. Owen's logo is to be used on his memorial, on wristbands, t-shirts and other merchandise and so that the OWEN programme can reach as many people as possible."
"To develop it, our students set about interpreting Nicola's brief and came up with ideas that were ultimately to be judged by Nicola. I'm so proud of how hard our students worked to develop the designs, got to know the subject area and behaved so sensitively and professionally throughout the process. Owen's name and legacy will live on, in part through our students' creation and I'm sure that in working on this project, our students have developed a deep awareness of the dangers that open water poses and how lives can be saved in the future."
More than 30 logos were developed and three were shortlisted by Nicola and other members of Owen's family. Nicola will unveil the winner in class at Nottingham College, in front of the participating students, on Friday 2 March at 9.30am (at the College's Adams Building, Lace Market).
Nicola was impressed with the enthusiasm shown by the students:
"We always wanted the message of the OWEN Trust to start with young people. They are our audience and they are the best people to carry the message forward to their friends and family, so it made perfect sense that OWEN's logo would be designed by young people. The College has been hugely supportive, and I've been so impressed with the students and their creations. We're looking forward to unveiling the winning design so that we can get cracking with putting it to use to get our message out there. It's about educating people to understand and respect the water, to enjoy water safely but also be conscious of what hidden dangers there may be and what to do if a situation arises where they need help for themselves or someone else."
Nicola continued:
"We haven't been without Owen for very long, it's been just over seven months and they have been the hardest months that you can imagine a rollercoaster of emotions. But, the very idea that through this programme we could be changing or even saving lives keeps me going and I know Owen would be proud of us all for doing something so positive."
"I can't explain how exceptional Owen was. He was bright with an infectious personality, laughing and smiling, always polite and so considerate nothing was ever too much trouble. It was totally in keeping with his personality that he went into the water that day to help his friends in trouble. We are proud of him and for the life he lived. It's now our job to make sure he can continue to have an impact on people after his death. That's what he would have wanted, to help others as he always did."
Nottingham College aims to continue its support of the OWEN Trust and will keep in touch with Nicola and Owen's family to explore other ways to help.
Jon Laud said:
"We're immensely grateful for the opportunity that Nicola has given to our students. As a college we want to expose all our students to challenges they may encounter professionally and for our design and animation students, who took part in this project, they have learnt how to work with a client, take a brief, apply their creativity and pitch their work. These are all valuable skills that they will take forward onto further study or into employment and for the winning students, they can take great personal pride in seeing how their work can and will help tragedies be prevented in the future."
---
---