Bell To Be Restored At Stapleford Cemetery
24/05/2018 Bells will ring in Stapleford later this year, as the bell at Stapleford Cemetery is refurbished by the company who originally supplied it.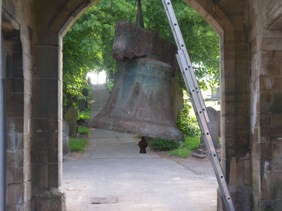 John Taylor Bell Foundry returned to the site, 133 years after they first installed it to collect the bell earlier this week and take it away for refurbishment.
Once reinstalled, the bell will ring 12 bells at midday each day and may also be used as part of burial services and events.
The £8,318.00 project is being funded by Broxtowe Borough Council and Stapleford Town Council as part of a wider project to renovate the site and possibly bring the chapel back into use in the local community.
Since 2010 various restoration works have taken place to including demolition of the 1950's extensions and the reinstatement of the trefoil windows where they had been removed for extension access.
In 2012, the chapel roof was refurbished and  in 2014/15 the mortuary roof along with the Notts Ogee cast iron rainwater goods and spire was been refurbished and failed stones were replaced, along with the renovation of the remaining iron work.
The building itself was a gift to the people of Stapleford in 1880 by Mr Joseph Fearfield and the bell was cast in 1885.
---
---