Disney Elections Help The Next Generation Of Voters
16/05/2018 A Rainbows group from Attenborough have learned about democracy by holding their own mock election to vote in a Member of Parliament for the Disney Constituency.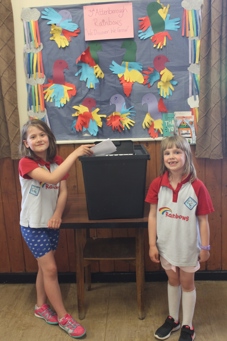 The 3rd Attenborough Rainbows, made up of girls aged 5 - 7 were visited by Broxtowe Borough Council's Elections Team to learn about what voting is, why it is important and how people register.
As part of the mock election, the Rainbows all registered as electors, then each of the Leaders campaigned for a different Disney character to be elected. Each Rainbow was given a ballot paper and was able to place their vote in secret.
Moana won with 8 votes, closely followed by Peter Pan with 5 votes.
Veronica Watson, Unit Leader said
"Our Rainbows really enjoyed the mock election and took their vote seriously!  They were of course delighted that Moana won.  It was a great experience for the girls."
The election was part of the Future Girls programme, which helps Rainbows, Brownies, Guides and Senior Section members to get their voices heard and play a part in Girl Guiding's work to drive positive change for girls and young women.
If you are interested in joining Girlguiding or would like to know more about becoming a volunteer please visit the Girl Guiding website. (Opens in a New Window)
---
---