Take A Seat in Beeston
11/05/18 A new scheme aimed at making town centres in Nottinghamshire more accessible for older people is being launched in Beeston this month.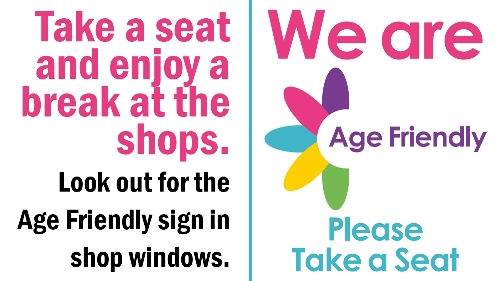 Age Friendly Nottinghamshire's 'Take a Seat' initiative wants more shops, businesses and meeting places to have a seat available in case an older person needs to catch their breath and rest while they're out shopping.
The scheme aims to raise awareness of how older people sometimes struggle to access their local area because there isn't enough seating available for them to rest.
Advice is also provided on how to make premises more age friendly in other ways, such as making sure the floor is level and clutter free to prevent trips and slips, lighting is clear and bright, steps have a handrail, products on shelves are within easy reach, toilets are provided where possible and that any music is played at a moderate level.
A 'We are Age Friendly' sticker will be displayed in all shops and premises taking part in the initiative. The sticker will reassure older shoppers that they will be given a warm welcome and offered a chair to have a sit and rest.
The first business to sign up to the scheme in Beeston is Boots.
The names of other Age Friendly businesses will be listed at the 'Take a Seat' webpage. (Opens in a New Window)
Councillor Gordon Wheeler, Vice-Chairman of Communities and Place Committee at Nottinghamshire County Council and Age Friendly Ambassador for Nottinghamshire, said: "Simple initiatives like this can really make a difference to people's lives. We are passionate about helping older people and people with disabilities to stay independent and connected to their communities - the Take a Seat initiative will help reduce feelings of loneliness and isolation by ensuring older people can still get out and about.
"We have had a very promising response from businesses so far and I would encourage more shops to take this simple step to provide great service for older customers."
A third of older people are identified as lonely. Sadly, many become isolated because they find it increasingly difficult to walk from their homes to local shops and community venues. A lack of seating for them to rest when out can be a significant barrier to them leaving their home. Loneliness can also lead to depression and mental decline.
Being an age friendly business also makes commercial sense for retailers. Studies have shown that:
60% of older people are concerned by the lack of seating in shopping areas
33% of older people would feel ashamed to ask for a seat in a public place
Annual high street losses of £4.5bn are predicted by 2030 if retailers fail to attract and retain older customers
Take a Seat is free to sign up to for businesses and will be rolled out to other areas of the county over the next two years. If you would like to find out more or own a business that would like to sign up to the scheme please call 0115 977 4438 or visit the 'Take a Seat' website. (Opens in a New Window)
---
---