Thank You Tea For Mayor's Charity Fundraisers
10/05/2018 An Afternoon tea was held at the Town Hall in Beeston, to thank fundraisers who helped the Mayor raise over £7,000 for such a deserving charity.
Mayor of the Borough of Broxtowe, Councillor Halimah Khaled welcomed the group into the Mayor's Parlour to join her for tea and cake as a thank you for their help and support in raising money for Wellbeing of Women.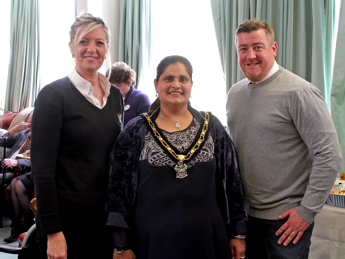 Councillor Khaled said: "I wouldn't have been able to raise this wonderful sum of money without the support of those here today and I have been humbled by the work they have done. This money will make a big difference to the people that Wellbeing of Women support and everyone who has supported us this year should be very proud of themselves."
A variety of fundraising events took place during Halimah's year in office, including a Cake Sale, Golf Day, a Garden Party, the Nottingham's Got Talent event and the Bollywood Charity Ball on 24th March. The fundraisers include fellow local Councillors, friends and local businesses who have all generously donated their time and resources to raise a fantastic amount for the charity.
---
---