Awsworth And Brinsley Children Benefit From Broxtowe's Pride In Parks Scheme
26/11/18 - CHILDREN in Awsworth and Brinsley are the first to benefit from new play areas, thanks to Broxtowe Borough Council's Pride In Parks scheme.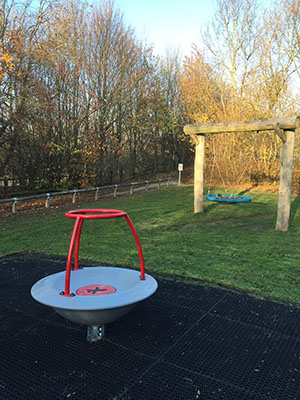 Awsworth Parish Council and Brinsley Parish Council are the first local Councils to complete improvements to play area in their parks, as part of funding from Broxtowe Borough Council's Pride in Parks initiative to invest £500,000 in parks and open spaces over the next two years.
In Awsworth, the Parish Council have installed new play equipment at Shilo Recreation Ground to the value of £5,000, including a carousel, single springer and music pipes play panel. They are now looking to improve facilities and the wetland habitat at The Lane Recreation Ground.
Chairman of Awsworth Parish Council, Councillor Graham Spencer said: "The Pride in Parks Initiative by Broxtowe Borough Council has provided us with much needed funding, allowing us to accelerate our programme of recreational improvements. We are now hoping to make improvements to The Lane Recreation ground early next year."
In Brinsley, the wooden activity trail at Brinsley Recreation Ground has had new safety surfacing installed to make it a much more accessible and user friendly area.  Further works are now scheduled with £17,000 worth of improvements to the main area.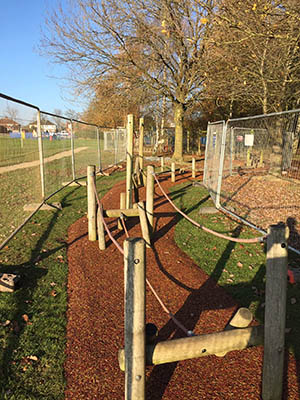 The Chairman of Brinsley Parish Council, Councillor Valerie Wakeling said: "The pathway and surfacing on the wooden activity trail is now looking superb and more user friendly. It will be nice to see the new Basket Swing installed, as this was very popular. This is in the second phase of the works and is due to commence within the next few weeks. In addition the surface in the play area is to be replaced and new safety barriers installed. The improvements are all down to the Pride in Parks initiative organised and financed by Broxtowe Borough Council. It is excellent to know our children will be safer when using the equipment due to this scheme. Thank you to Broxtowe Borough Council."
Chair of Broxtowe's Leisure and Environment Committee, Councillor Shane Easom said: "It's fantastic to see the funding from the Pride In Parks scheme benefitting local residents across the Borough so they can have fun and improve their physical and mental health outside in the great outdoors. Over £300,000 has been invested so far, with the next scheme due to start at Millfield Road Open Space, Kimberley shortly."
---
---