£110,000 Improvements Unveiled At Leyton Crescent
09/10/18 - LOCAL CHILDREN were the first to try out the newly refurbished play area at Leyton Crescent when it was officially unveiled this week.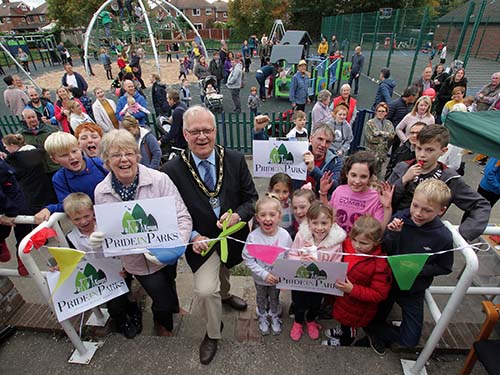 Mayor of the Borough of Broxtowe, Councillor Derek Burnett BEM joined children from Beeston Rylands Youth Club and other guests at the official opening, following £110,000 worth of improvements on the site.
The improvements are part of the Council's Pride in Parks scheme and include:
Large multi play unit for juniors
Multi play unit for toddlers
Traditional swings for junior and toddler
A big single point swing, trampoline, seesaw, balance beams and spring riders all set in an accessible rubber surface with a centre piece of a 4-metre-high play dome with a climbing net suspended beneath it, all set in a large sand pit.
As part of the event, the Youth Club provided free tea, coffee and squash with hot dogs, mushy peas and cakes. They also put on games and a tombola.
As well as an £37k from the investment from the Council, funding has been boosted by £16k from Nottinghamshire County Council's Supporting Local Communities Fund, £8k from United Living and £50k grant from WREN'S FCC Community Action Fund.
"This is the first major improvement works at Leyton Crescent in over twenty years so we're really excited to see the reaction from local children and their families as they get to try it out for the first time. Thank you especially to Beeston Rylands Junior School who provided support with the initial consultation for the project to help ensure that the new play area reflected what our local children wanted."
"Leyton Crescent is the 7th park to benefit from our Pride in Parks Scheme and I'm looking forward to seeing more improvements across the Borough over the next few months" said Councillor Shane Easom, Chair of the Leisure and Environment Committee.
Cheryl Raynor, WREN's local grant manager says: "It's wonderful to see something we have funded open and ready to make such a difference to children in the local area. WREN is always happy to consider grant applications for projects that benefit local communities, and this is a great example of what can be achieved.".
The Pride In Parks scheme will see £0.5 million invested in the Borough's parks and open spaces over the next two years to ensure that all residents in Broxtowe have an opportunity to benefit from green space.
WREN is a not-for-profit business that awards grants for community, conservation and heritage projects from funds donated by FCC Environment through the Landfill Communities Fund.
For more information about WREN funding please visit the WREN Website. (Opens in a New Window)
---
---