Kimberley Leisure Centre Lifeguards Named Number One
01/10/18 - THE LIFEGUARD TEAM at Kimberley Leisure Centre have been named top in the UK following a nationwide competition. The Leisure Centre came second last year.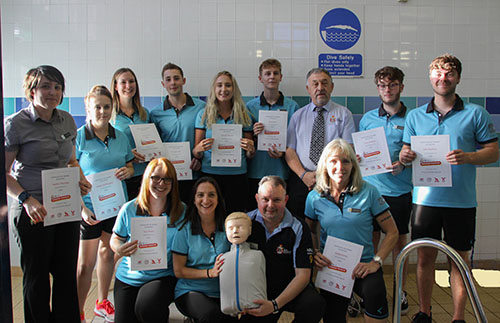 27 Kimberley Lifeguards were amongst 400 lifeguards who entered this year's competition, as part of the Royal Life Saving Society's (RLSS) annual Institute of Qualified Lifeguards (IQL) Lifeguard Triathlon.
Kimberley Leisure Centre has taken part in the competition for the last 7 years.
The Triathlon is a combination of three different elements of Lifeguarding Qualification NPLQ (National Pool Lifeguard Qualification) including two timed swims, CPR and a timed theory test.
Kimberley Leisure Centre's Trainer-Assessor, Stephane Chambrelan said: "This year we had five women in the top ten female lifeguards and two women in the top men's lifeguards. , Overall we had five lifeguards in the UK's top 10 Lifeguards, finishing higher than previous years and making this year a tremendous show of effort and dedication shown by all the lifeguards and one to cherish."
"We have a very good team spirit here and are looking forward to seeing if we can maintain our status and improve our individual positions, but whatever happens we will continue to work as a great team".
Members of the team added: "All the hard work has paid off, but next year we want top team and number 1 male and female lifeguards which we're extremely close achieving" one lifeguard commented "The technology we're using for our CPR has helped to improve our skills and confidence".
The centre organises training courses to become a lifeguard during the year for those looking to begin a career in leisure. For further details contact the centre on 0115 917 3366.
For more information, visit the LLeisure website (Opens in a New Window) 
---
---