Schoolchildren Keep Broxtowe Clean And Green
22/10/18 - SCHOOLCHILDREN from Beeston Fields Primary School helped make Broxtowe Borough a cleaner and greener place as they joined in with a special litter picking and tree planting event in Beeston this month.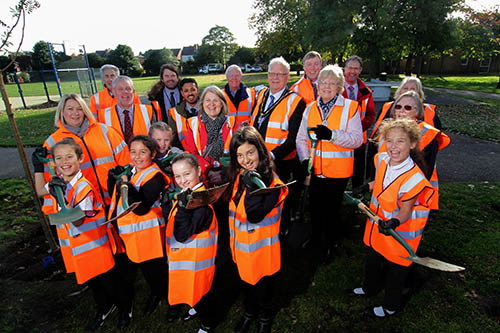 Pupils from Year 5 joined Mayor of the Borough of Broxtowe, Councillor Derek Burnett BEM and members of Beeston and District Civic Society at Broadgate Park on Wednesday 24th October for the event as part of the Council's Clean and Green campaign.
While the Civic Society planted an oak tree and took part in the litter pick, the children planted two Mountain Ash trees and daffodil bulbs. The trees are the first to be planted as part of a new initiative to plant 1,000 new trees every year in the Borough over the next five years.
Chair of the Leisure and Environment Committee, Councillor Shane Easom said: "This event is really exciting because it really shows what our Clean and Green campaign is all about – everyone from all ages and backgrounds doing their bit. The campaign, together with our Pride in Parks scheme to invest £500,000 in the Borough's parks and open spaces over the next two years, as well as our tree planting initiative is a fantastic investment in the Borough to ensure we protect the environment for future generations."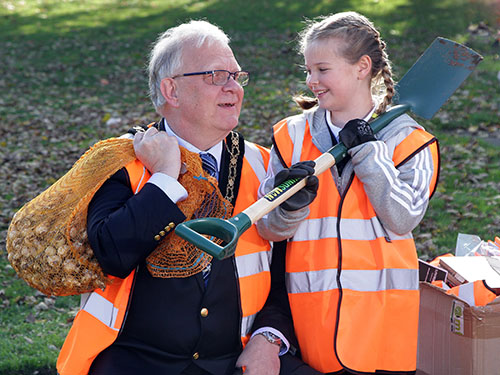 Claire Lindsay, Head Teacher at Beeston Fields Primary & Nursery School said her pupils were delighted at the opportunity to take part. "This project mirrors our own philosophy of caring for the spaces around us and being proud of our community. Not only do the children love to take part, they enjoy the satisfaction it brings to see the positive changes they are making; instilling in them an awareness of how important it is that we preserve our green spaces for the future."
Judy Sleath, from Beeston and District Civic Society said: "We are very pleased to be part of this initiative. We have in the past and more recently been very involved with planting of trees in various locations. We hope also to brighten up the area around the new play park with wall decoration of Butter flies and Bees painted by the children."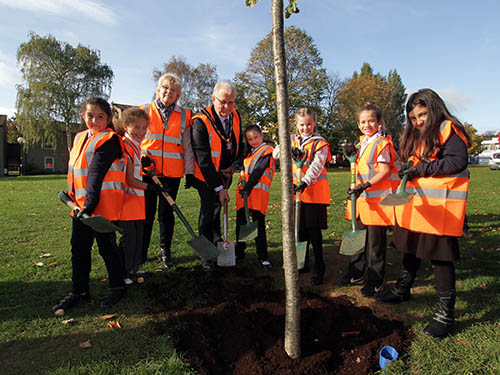 The Council's Clean and Green Campaign will see £72,000 invested in new initiatives to complement and enhance existing programmes to keep Broxtowe clean and tidy. These include:
Community litter picking events to complement existing events as part of the Community Clean Teams
Additional litter picking around the A610
Additional weed control in high priority areas
Mobile CCTV cameras at flytipping hotspot areas
Programme of 'Waste Days' to enable residents who do not live near household waste recycling sites to dispose of their bulky waste
Litter bin replacement in areas where there is high footfall including main roads, twitchells, parks and bus stops
Advertising clean and green initiatives on bin lorries to encourage community support
A special resource pack has been created for local groups and organisations who want to get involved and run their own litter pick events, to help them carry out activities safely, as well as promote them in their local area. The Council can also help by lending litter picking equipment. Download a resource pack online. (Opens in a New Window)
---
---