Schoolchildren Try Out Broxtowe Bin Lorries
Schoolchildren at Awsworth Primary School enjoyed a visit from Broxtowe Borough Council's Waste and Recycling Team yesterday, with a chance to sit in a bin lorry and learn about recycling.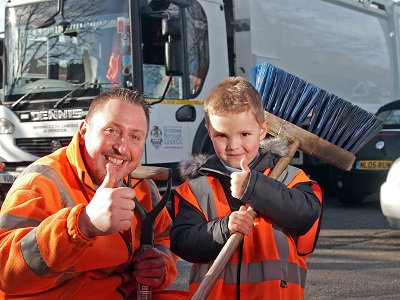 The children, from reception class, were visited by five of the Council's Waste and Recycling Team. As well as having a go in lorries, the children learnt about what kind of things they can recycle, where their waste and recycling goes and what they can do to help protect the planet for the future.
The visit was part of the Council's Clean and Green campaign which aims to keep Broxtowe clean and tidy through a range of initiatives, including Community litter picking events to complement existing events, Community Clean Teams, targeting fly tipping hotspots, waste days, litter bin replacement and working with the community.
Nursery Teacher, Angela Beagley said: "The children have had a great time this morning putting on their Hi Viz jackets and meeting the refuse collectors and looking at the Bin lorry, having a go at sitting in the lorry and some children sneakily pressing the horn. Indoors the children enjoyed looking at the different wheelie bins and sorting the packaging from the materials they were made from. It was super morning aimed at talking about different people who help us in the community and how to recycle the different empty packaging we use. It was a great "hands on approach" to getting the children involved and educating even the youngest children to know what packaging goes in which bin. I would like to say a huge thank you to the team, you really have inspired these children and they haven't stop talking about you."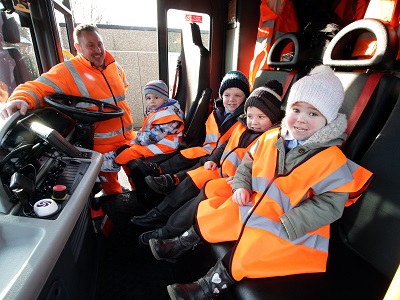 Chair of the Leisure and Environment Committee, Councillor Shane Easom said "Children are our future so I'm really pleased to see local schools getting involved in our Clean and Green campaign and learning about the importance of recycling and looking after the environment. Our Waste and Recycling Team do a great job collecting nearly 40,000 tonnes of waste and recycling each year so its great for them to have the chance to meet some the children and tell them about what they do – there may be some future bin men out there!"
Find out more and download a Clean and Green resource pack.
---
---