Uni Students Give Back To The Environment In Kimberley
20/2/19 - Students from Nottingham Trent University Volunteers gave back to the environment earlier this month as they helped restore a dew pond for wildlife at Hall Om Wong Open Space in Kimberley.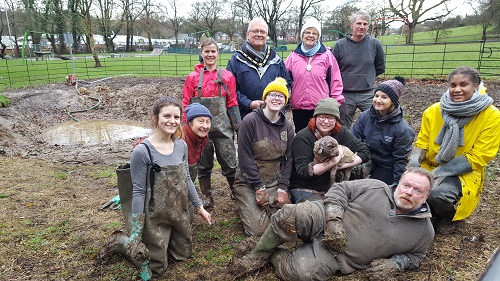 The students were joined by the Mayor of the Borough of Broxtowe, Councillor Derek Burnett BEM and local councillors Mel Crow and Shane Easom as they helped the Practical Conservation Volunteers restore the dew pond on Sunday 10th February.
The pond, a relic of days gone past when the site was used for grazing animals, had deteriorated and no longer held water into the drier months. The volunteers helped reline the pond with clay in a traditional technique known as "puddling", to create a waterproof lining to hold water.
Known locally as "Door One", Hall Om Wong includes an area designated as a local nature reserve, providing an oasis for wildlife close to the town centre.
The project, undertaken as part of the Council's "Clean and Green" initiative will provide a haven for threatened wildlife including frogs, newts and dragonflies, as well as a much needed source of drinking water for the bird and mammal life on the open space.
One of the student volunteers, Meghan Moulford, said, "Even though it rained a bit what a great way to spend a Sunday! Really enjoyed paddling in mud to help out the local community and critters"
Later in the spring volunteers will be on site again to plant a selection of native wildflowers to further benefit wildlife in and around the pond, also creating a colourful display through spring and summer.
Find out how you can get involved in the Clean and Green campaign.
---
---