Volunteers Help Improve Watnall Spinney For Wildlife And The Local Community
Volunteers Help Improve Watnall Spinney For Wildlife And The Local Community
28/02/19 - On Tuesday 26th February the Mayor of Broxtowe was joined by volunteers from the Friends of Watnall Green and Spinney and the Practical Conservation Volunteers to undertake woodland management and pond clearing in the Watnall Spinney Local Nature Reserve, as part of the Broxtowe Borough Council Clean and Green initiative.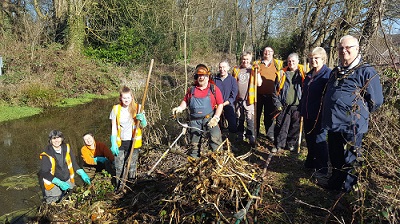 The group enjoyed working in unseasonably warm and sunny weather, clearing debris from the ponds and improving access paths through the site.
On Sunday 10th March the group will be on site again from 10:30am to undertake further tasks, including woodland management, wildflower and bulb planting, with the plant material being generously funded by United Living, one of the Council's Modernisations Partners.  If you would like to get involved please contact either the Friends or Practical Conservation Volunteers.
The Friends of Watnall Green and Spinney are a new group who are always looking for volunteers. If you would like to get involved conserving this important site or helping run the group they would love to hear from you on their Facebook page. (Opens in a New Window)
The Practical Conservation Volunteers undertake practical conservation projects on nature reserves, parks and green spaces to fulfil their vision of a better environment where people of all cultures are valued, included and involved. Working in partnership with local authorities and other landowners, they develop and implement projects that transform outdoor spaces, enhance people's wellbeing and enable people to contribute positively to their community.
For more information you can contact them on 07739447979 or 01332 864581 or email: practicalconservationvolunteers@outlook.com
Find out more and download a Clean and Green resource pack.
---
---