Community Reflects On Holocaust At Annual Memorial Event
Community Reflects On Holocaust At Annual Memorial Event
28/01/19 - The Broxtowe community stood together at a short ceremony today (28th January) to mark the 19th annual event in the Walled Garden at Bramcote Hills Park.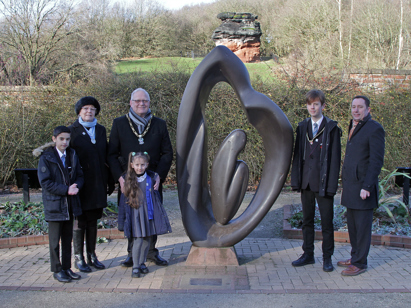 Mayor of the Borough of Broxtowe, Councillor Derek Burnett BEM joined fifteen-year-old Youth Mayor William Mee, in delivering readings to reflect the theme of this year's event, 'Torn from Home, along with people whose circumstances have led them to make Broxtowe their home.
Attendees were also invited to write postcards to genocide survivors about their own personal ideas about what home means for them.
"There have been many tragic incidents across the world in the past year and the theme 'Torn from Home' is an important message for us to think about. We need to think about those who have lost their homes as a result of genocide and war and how we can offer them a welcoming home within our own Borough." said Councillor Burnett.
Each year for the past 19 years Broxtowe Borough Council has held a ceremony at Bramcote Hills Park to mark Holocaust Memorial Day.
---
---