Back for another Summer: Sunset Yoga on Beeston Beach
12/07/2019 - Feel the sand beneath your toes whilst you de-stress, unwind and re-energise at the end of the day with the return of our popular yoga classes. Classes start from Tuesday 23 July for five weeks finishing on 20 August.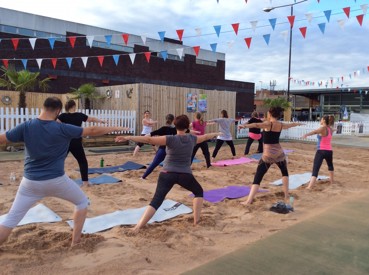 Utilising the sand at the popular Beeston on Sands the gentle class is suitable for all levels and abilities. Classes are free for adults (age 16+) but booking is advised to avoid disappointment.
Last year's classes were fully booked with lots of praise for the new initiative from LLeisure. One regular participant hopeful that classes would return said; "Wonderful to feel the breeze and the sand, totally wonderful"
Each week will combine a range of yoga moves and poses to help bring a sense of calmness, stress reduction, and a feeling of well-being at the end of the day. Classes start at 6.30pm and last an hour.
Book your place on the LLeisure Website (Opens in a New Window)
Participants must be age 16+.
In the event of unpredictable weather (that's rain and wind) the class may be cancelled.  Information will be posted on our website / social media to alert people.
Beeston on Sands will run from Saturday 20 July to Sunday 25 August. It's located at the Old Bus Station, Beeston.
---
---