Beeston Revisits The 1940s
16/07/2019 - Saturday 10th August sees Beeston go back in time for a spectacular 1940s revival. Brand new to Broxtowe's event calendar, Timewarp 1940s will transform Dovecote Lane Recreation Ground to a hub of all things from the 1940s.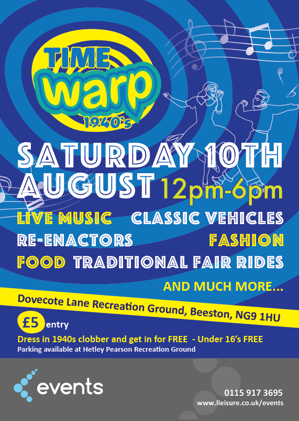 Dovecote Lane's bandstand will be revitalized with live music and performers playing throughout the day. Headlining the event is local vintage singer Jeanie Barton who will delight you with the much loved sounds from the forties. More local talent is set to make a debut at Timewarp 1940s; Beeston Big Band will transport you to way back when and you might even be inspired to Swing and Sway.
Driving in from all around the UK, catch a glimpse of some classic vehicles that once filled the streets. Further to this, there will be encampments with re-enactors, setting the scene for life in the 1940s.
In addition to all the fantastic things to see and hear, Timewarp 1940s will host a selection of traditional rides including a hand turned carousel and swing boats.  There will also be a number of trader stalls that will be selling all things forties from fashion to records. Have a look around, you might just find yourself a bargain or that special item that you never knew you needed.
As you go round the site, exploring all the sights and sounds, enjoy some food from the onsite catering and a drink from the bar or take a seat at the pop up tea room for a slice of delicious cake and a cup of fine tea.
Entry to Timewarp is just £5 and free for under 16's and those who arrive dressed from head to toe in 1940s clothing. 
Book your tickets in advance now on the LLeisure Website (Opens in a New Window)
---
---