The Blue Line and Beyond
29/07/2019 - A fascinating new exhibition will be on display at the D.H Lawrence Birthplace Museum's new gallery space this summer, depicting the landscapes that inspired the Eastwood born writer himself.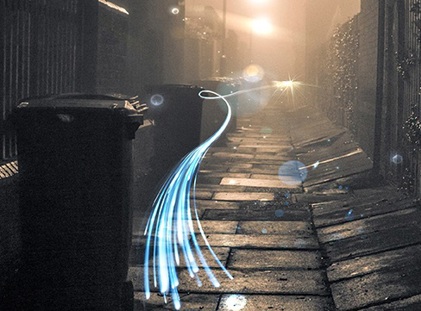 Beauvale Photography Group's 'The Blue Line and Beyond' exhibition will be on display throughout August to showcase the talent and creativity of members of the Beauvale Photography Group and highlight how these remarkable locations continue to influence and inspire all those who come across them today.
The Blue Line and Beyond, brings together theme and approach to create an evocative contemporary view of the local landscape. Using the famous Blue Line Trail as a starting point, it looks at the locations in Eastwood and the surrounding area that inspired D.H. Lawrence in his writing, his artworks and in life.
Lesley Grand-Scrutton from the Beauvale photography group said "The members of Beauvale Photography Group are pleased to be offered the opportunity to display examples of their work for the exhibition - "The Blue Line and Beyond".  The Group's aim is to provide a forum where those with an interest in Photographic Art and Techniques can meet on a friendly and social basis. "
"The Blue Line and Beyond will give visitors to the museum an insight into D.H Lawrence from a different perspective. We're really proud to provide a location for local groups to display their work and look forward to working with them on future exhibitions." Alex Khan, Cultural Services Manager
Once you have experienced the images in the exhibition why not experience the locations for yourself and see what inspiration awaits! The Blue Line Trail is a route around Eastwood and into the surrounding area allowing you to see the houses the Lawrence family lived in, the buildings they worked in and even the pubs that they drank in!
The exhibition runs throughout the month of August during museum opening hours Tuesday to Saturday, 10am to 4pm.
The D.H. Lawrence Birthplace Museum is an award winning visitor attraction in Eastwood, Nottinghamshire. It combines D.H. Lawrence's authentically recreated childhood home, with an exhibition and gallery space celebrating the author's life, work and humble beginnings. From here you can also explore the surrounding countryside, which inspired his work. 
The D.H. Lawrence Birthplace Museum is open Tuesday to Saturday, 10am to 4pm. For more information, please contact the D.H. Lawrence Birthplace Museum on (0115) 9173824, email dhlawrence@lleisure.co.uk or visit www.lleisure.co.uk/dhlawrence (Opens in a New Window)  Facilities include a charming gift shop, tea and coffee, and a picnic area.
---
---