Council Officers Recognised For Heroic Actions
07/03/19 - Two Broxtowe Borough Council Officers have been recognised for their heroic actions after they helped a woman who had been attacked in Beeston Fields Recreation Ground.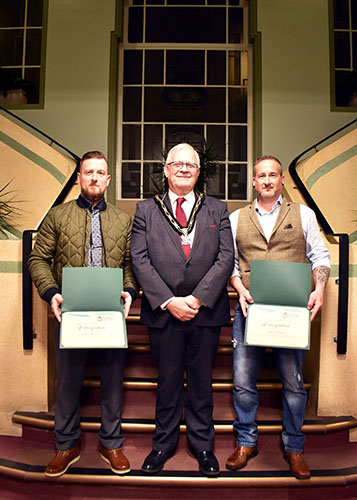 On Friday 11th January, Chris and Nick Robertson were carrying out their duties as Street Cleansing Operatives when they became aware of a woman in distress. They quickly attended to the woman, who had been attacked by a local man, until Police arrived on the scene.
The woman received treatment in hospital before being released.
Chris and Nick were formally recognised by Members of Broxtowe Borough Council at Full Council last night (6th March).
Speaking about their actions, Mayor of the Borough of Broxtowe, Councillor Derek Burnett said they showed enormous bravery and he was proud to have them working at Broxtowe Borough Council.
Nick and Chris said they "just wanted to make sure that the lady was safe and did not want her to come to any further harm."
District Police Commander Inspector Simon Riley said: "I would also like to pay tribute to the bravery of Chris and Nick.  Selfless actions are a key aspect of public service, but on this occasion they both went above and beyond what would reasonably be expected of them.  Their selflessness and bravery helped protect a vulnerable member of the public from further harm and were integral to the subsequent detention of the male suspect.  My thanks go to both of them."
---
---