Beauvale Trefoil Guild Join Broxtowe's Community Clean Team
Beauvale Trefoil Guild Join Broxtowe's Community Clean Team
24/05/19 - EASTWOOD received a spring clean earlier this week, as members of the Beauvale Trefoil Guild took part in a litter pick around the town.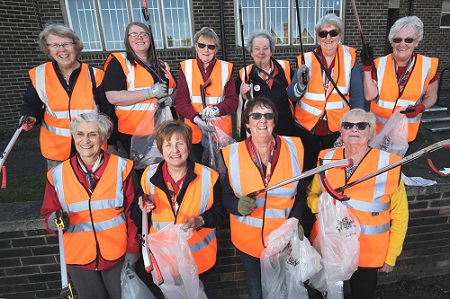 Ten members of the group joined a Community Clean Team to clean up areas around the town centre, Mansfield Road, Greenhills Road, Nottinghamshire Road and Wood Street, as part of Broxtowe Borough Council's Clean and Green Campaign.
The group said: "We enjoyed the experience and had a real sense of satisfaction doing it. It was a lovely evening, and we received quite a few complementary comments from the public who spoke to us whilst we were out and about."
Since the Council launched is Clean and Green Campaign last October, more than 200 local residents have joined Community Clean Teams to help keep the Borough clean and tidy.
A special resource pack has been created for local groups and organisations who want to get involved and run their own litter pick events, to help them carry out activities safely, as well as promote them in their local area. The Council can also help by lending litter picking equipment.
Find out more about Clean and Green and download a resource pack
Trefoil Guild is a branch of Girl-guiding and its members agree to support the guiding ethos - including the pledge to help other people. Many members pass on their skills and knowledge to local guiding units, from helping Brownies work towards a badge to preparing older girls for a camping adventure. Some members are unit leaders or helpers in Girl-guiding units.
For more information, please our Clean and Green webpage or email grounds@broxtowe.gov.uk.
---
---