Christmas arrives in Beeston
11/11/2019 - This year's much anticipated Beeston Christmas Light Switch On event, proudly sponsored by Arnold Clark Nottingham, is due to take place on Saturday 30th November from 4.30 pm-6.30 pm around Beeston Square and Foster Avenue.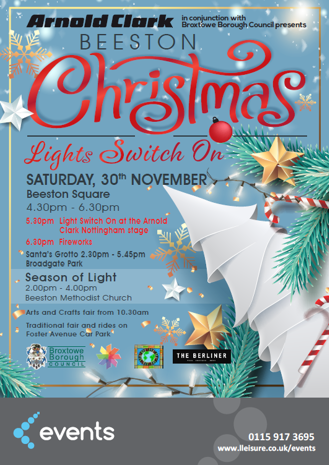 The festivities start early with an art and crafts fair on Chilwell Road from 12 pm; whether you are only just starting your Christmas shopping or need to find those last little bits, you might just find an inspirational gift for your family and friends. Moreover, at Beeston Methodist Church, there is the opportunity to make some beautiful paper lanterns and listen to the Beeston Voice's choir sing an array of joyful melodies at the Season of Light Festival from 2-4 pm. If that's not enough, you will find Father Christmas at Broadgate park from 2pm-5.45pm; a great opportunity for the little ones to let Santa know how good they have been since last Christmas.
The main event kicks off at 4.30pm and there will be lots to see and do. With a traditional fairground and the brand new vortex tunnel in Foster Avenue car park, live music on the Arnold Clark stage on Beeston square, where you will hear the beautiful melodies of community choirs and the vintage sounds of Rose Devine as well as headline act the SKAs, and local charity stalls as well as street entertainers.
The Festival School Lantern Procession will be heading into the square at 5.15 pm, just before the light switch on ceremony at 5.30pm. The Mayor of the Borough of Broxtowe will officially turn on the lights, along with Beeston's own Kingdom Rapper. The event will culminate in a fantastic firework display at 6.30pm; be sure to to gather on Foster Avenue this year to get the best views of the firework show.
If you are still looking for something to do after the fireworks, head down to the Berliner on Chilwell High Road to see Kingdom Rapper performing from 8.30pm until late.
Parking in the town centre is limited, so please use public transport where possible. The Beeston Tram and Bus interchange will bring you right into the heart of Beeston and is just a short walk from the Square.
LLeisure has organised the event in conjunction with Broxtowe Borough Council. Beeston Christmas Light Switch on is Proudly sponsored by Arnold Clark Nottingham. With support from artsandcraftsfairs.org and The Berliner. For more information go to the LLeisure Beeston Christmas Lights event page (Opens in a New Window).
---
---