Electric Vans Making Broxtowe Greener
07/11/2019 - New electric vans are helping to make Broxtowe greener as part of Broxtowe Borough Council's Green Futures campaign.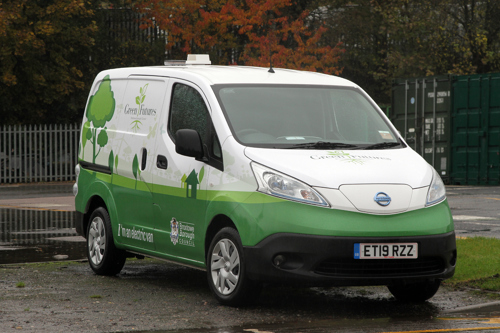 Two diesel vans have been replaced with full electric vehicles, saving 1.6 tonnes of greenhouse gas emissions per year.
Head of Environment, Paul Summers said: "These vans will reduce the amount of greenhouse gasses produced when by almost 70% when compared to the older vehicles, as well as reducing Nitrogen Oxide pollution. This is stage one in our aim to decarbonise the Fleet Vehicles wherever possible. All new vehicles and plant equipment will be assessed on their green target footprint and cost effectiveness before purchase to help protect our environment for the future and move us closer towards our target of being carbon neutral by 2027."
"The new electric vans are just part of the Council's Green Futures campaign. We've already made good progress by using lots of recycled materials in our parks and open spaces, and improving homes and buildings to make them more energy efficient but there's more work to be done. We're going to be working hard on Green Futures projects over the coming months and years to reduce our carbon footprint further."
The vans will also help save over £1,000 a year in fuel and vehicle excise duty.
As the UK transitions to Net Zero greenhouse gas emissions, the Parliamentary Climate Change Committee has recommended that all new vehicles will need to be electric as close to 2030 as possible.
---
---