The Dog and Parrot in Eastwood Reach Final of the Great British Pub Awards
The Dog and Parrot in Eastwood Reach Final of the Great British Pub Awards
21/08/20 - Caring and community-minded Eastwood pub, The Dog and Parrot, has been shortlisted in the Great British Pub Awards for their work supporting the local community, particularly during the pandemic.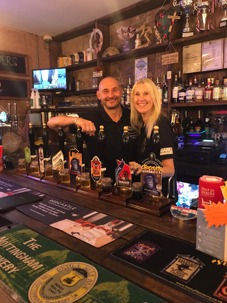 This passionate and caring pub team have been recognised for going above and beyond for the local community by offering support to local people, particularly to the most vulnerable.
Their commitment to strict health and safety measures relating to COVID-19 has also been highly commended. This dedication, hard work and caring nature has put The Dog and Parrot in the list of the six top community-minded pubs in the UK and votes are still being cast to choose a winner.
Through work with local charity groups, opening safely, building support networks and keeping spirits up, it is very clear this is more than just your average pub. This is a very special pub indeed.
If you agree this is a very special pub, the voting is still open and can be cast at https://www.greatbritishpubawards.co.uk/community-mindfulness/ (Opens in a new window)
---
---