Inham Nook Gardeners Plant Chilwell's Historic Apple Tree
Inham Nook Gardeners Plant Chilwell's Historic Apple Tree
24/02/20 - On Sunday 23rd February at 11am the Mayor of Broxtowe, Councillor Michael Brown joined the Inham Nook Allotment Gardeners Association and Practical Conservation Volunteers to plant heritage apple trees at the Inham Nook allotments in Chilwell.
The apple variety planted is named Bess Pool, a crisp dessert apple with a rich flavour and crimson markings, which originated in Chilwell.
The story goes that back in the 17th Century a Chilwell girl named Bess Pool found a wild apple seedling, laden with fruit, growing in a wood in Chilwell. She took the fruit back to her fathers' inn from where it became well known locally. Later on it became a favourite throughout Victorian Britain, after Pearson's Nurseries (also of Chilwell) took cutings and grew the tree commercially. The Pearson family bought land throughout Nottinghamshire, planting orchards wherever they could. It is believed that during the Victorian period Nottinghamshire had the largest area of dessert apple orchards outside Kent and train visitors to Nottingham were said to be greeted with the surrounding countryside characterised by apple orchards.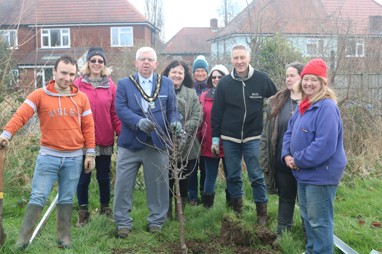 The planting event and heritage apple trees were generously funded by United Living (North), the Councils' housing modernisation partner.
Richard Baker From United Living said "It's great to be involved in local community projects and helping return this historic apple to Chilwell has been very worthwhile. We hope the trees soon crop so local people can enjoy the fruits of their hard work!"
Tony Greaves, Secretary at Inham Nook Allotment Gardeners Association said "We are really pleased to add a local heritage apple tree to our orchard, very grateful to United Living for their support and the Practical Conservation Volunteers for sharing their expertise in conservation"
The allotments at Inham Nook are managed by a committee of plotholders who rent the site from Broxtowe Borough Council. If you would like to put your name on the waiting list for a plot please contact them at tony.inaga@gmail.com
The Practical Conservation Volunteers undertake practical conservation projects on nature reserves, parks and green spaces to fulfil their vision of a better environment where people of all cultures are valued, included and involved. Working in partnership with local authorities and other landowners, they develop and implement projects that transform outdoor spaces, enhance people's wellbeing and enable people to contribute positively to their community. For more information you can contact them on 07739447979 or 01332 864581 or email: practicalconservationvolunteers@outlook.com
---
---