Bramcote Volunteers Mark 20 Years with Tree Planting
Bramcote Volunteers Mark 20 Years with Tree Planting
10/01/2020 - Volunteers from the Friends of Bramcote Ridge celebrated their 20th anniversary last week, doing what they do best by planting hazel trees and wildflower bulbs at the Green Flag award winning Bramcote Ridge Local Nature Reserve.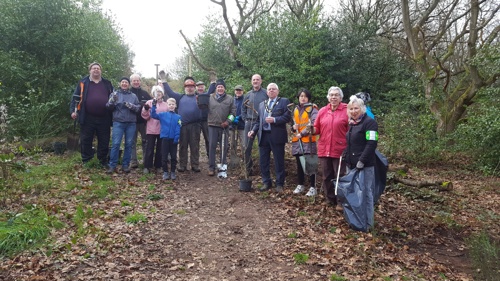 The group was joined by the Practical Conservation Volunteers and the Mayor of the Borough of Broxtowe, Councillor Michael Brown to plant the trees in an open area within the woodland. In the future, they will be managed as traditional hazel coppice, providing an important resource for local wildlife. The trees were provided by Broxtowe Borough Council as part of its Clean and Green initiative.
Around each tree, a drift of wildflower bulbs, including snowdrop, bluebell and wild daffodil were also planted, which will further add to the attractiveness of the woodland for both wildlife and visitors.
Helene Laanest, from the group said: "It was a pleasure to have the Mayor with us on Sunday. We appreciate all the support we get from Broxtowe Borough Council and the Practical Conservation Volunteers. Twenty years for a volunteer group such as ours is a great achievement and the site has seen a lot of improvements over the years. Bramcote Ridge is a lovely space and we hope the Ridge will continue to attract a dedicated team who care about its' conservation. Newcomers of all ages are welcome."
The Friends of Bramcote Ridge formed 20 years ago to help preserve and improve this important site, for wildlife and local people. In total 20 hazel trees were planted to commemorate this remarkable milestone, which also coincides with the completion of a number of improvements carried out on the site thanks to a funding award of £20,000 from the Ministry of Housing, Communities and Local Government.
Throughout 2019 a number of improvements were made, including a wheelchair and buggy friendly path to the play area, improvements to a stepped access from Thoresby Road and resurfacing of an accessible path to a viewpoint overlooking Wollaton Hall.
Since forming in 1999, the Friends have maintained a membership of around 50 or so local people, with up to 20 members turning up for their monthly work parties to engage in practical activities including managing wildlife habitats, clearing litter, erecting and maintaining bird nest boxes, and maintaining paths and accesses. The Group have held the prestigious Green Flag Award for the last 11 consecutive years, a real testament to their hard work and enthusiasm.
Both The Friends of Bramcote Ride and The Practical Conservation Volunteers are always on the look out for new volunteers:
The Friends of Bramcote Ridge are always looking for new volunteers, if you would like to get involved conserving this important site they would love to hear from you – you can make contact through the Bramcote Ridge website (Opens in a new window).

The Practical Conservation Volunteers undertake practical conservation projects on nature reserves, parks and green spaces to fulfil their vision of a better environment where people of all cultures are valued, included and involved. Working in partnership with local authorities and other landowners, they develop and implement projects that transform outdoor spaces, enhance people's wellbeing and enable people to contribute positively to their community. For more information you can contact them on 07739447979 or 01332 864581 or email: practicalconservationvolunteers@outlook.com
---
---