Leader's Speech on the Council's COVID-19 Response
15/07/20 - Leader of the Council Milan Radulovic MBE's speech for Full Council on 15th July 2020.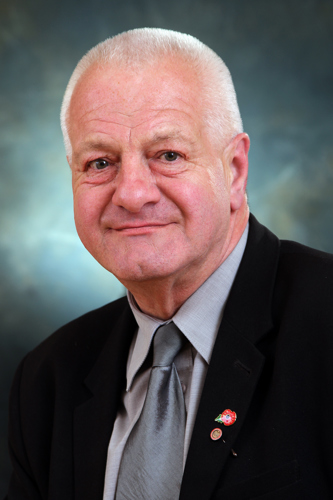 Tonight's presentation will be about the impact and our response to the Covid-19 pandemic on our local community.
424 people in Broxtowe have caught the Covid-19 virus (figs to 2 July). Between March and the end of May sadly 83 people living in Broxtowe have lost their lives.
We all know that the impact on our community has been severe – of course most devastating for the families and loved ones of those who have been taken by the disease, but also the consequences of an extended period of lockdown on the health and wellbeing of our community, particularly on those people who are already vulnerable and struggling with health and loneliness. It has also been devastating for our local economy and the economy of the nation as a whole.
Broxtowe's response
Reports have been produced during this last committee cycle to the Jobs and Economy Committee on the economic impact of the virus and recovery proposals, to the Finance Committee on the impact on the council's finances, to the Policy committee, on the use of urgency powers during the early period of the pandemic, and the Council services impacts of the virus and the Personnel Committee has taken oversight of the arrangements to secure the health and wellbeing of our employees and safe working practices in this current phase of the pandemic. The Environment Committee already has a strong green futures programme and will be looking to capitalise on the gains and behavioural changes made during the lockdown period to advance the programme.
Only two meetings were cancelled due to the initial stages of Covid-19. The Council is now running its full committee cycle under and adhering to the new powers in the Coronavirus Act 2020.
I want to remind Councillors of the strong Vision agreed by the Policy and Performance Committee to guide our recovery efforts as a Council:
"The residents and businesses of Broxtowe will not only recover from Covid-19, but emerge with a fairer, more just and enriched community life, better mental and physical health outcomes for all; a sustainable fast growing local economy and a cleaner environment for all to enjoy."
The role of the Policy and Performance committee is to:
Provide political leadership for Covid-19 recovery

Co-ordinate and initiate BBC's response to the Covid-19 pandemic

Develop strategy and policy in relation to community and economic recovery from the pandemic

Ensure adequate resources for Covid-19 recovery
With this in mind four immediate steps have been taken:
Commissioning of an Economic needs assessment (led by Jobs and Economy Committee- see details report to that committee 18.6.20)- this involves contacting every business in Broxtowe to ask for their input to our economic recovery efforts

A Community needs assessment (led by Leisure and Health Committee– see report to that committee 10.6.20) which has commenced through the commissioning of a voluntary sector mapping exercise

Internal/BBC services recovery – ensuring all our services are brought back to full operation in a safe and secure way (led by the Personnel Committee – see report to that Committee 30.6.20)

Financial recovery – ensuring the full financial impact of the virus is reported to members and that the medium term budget strategy is revised accordingly (led by Finance and Resources committee) – see report to that committee 9.7.20)
Voluntary sector support
The Council has spent £70,000 on grants to voluntary and mutual aid organisations, and raised over £18,000 through a community appeal, all of the proceeds of which will be fully passed on to groups assisting with the relief effort.
The Leisure and Health Committee also agreed the taking of a number of steps including the following:
 Refresh the operation, membership and remit of the Broxtowe Partnership to repurpose its efforts on community recovery.

Develop a new Voluntary sector strategy. Effective leadership for the Voluntary sector and good co-ordination of voluntary effort is crucial to community recovery.

Develop a Food Poverty Strategy. This will lead to the strengthening of food banks and consideration of other key means of social support.

Develop a Fuel Poverty Strategy. In the lead up to Winter this will help promote warm homes and support people struggling to pay their heating bills.

Develop more initiatives to support mental health- both internally (employees) and externally (in the community).
Community Support
We have dealt with just over 200 support requests which have come through the County Council Hub. These are from Vulnerable Persons and the requests have included support with food provision, medicine delivery, dog walking, debt concerns and so on. Officers of Broxtowe have contacted these people and signposted and supported them appropriately.
In terms of the Extremely Vulnerable Persons (EVPs), there are just short of 2,800 registered in Broxtowe. Of these, 516 have stated they are unable to access food supplies during the shielding process and so are receiving government food parcels on a weekly basis. Council officers have delivered 56 emergency food parcels to EVPs where there has been a missed delivery of the government parcel, or other reasons. These are delivered by our officers within 24 hours of receipt of the request from County Council.
These referrals have been followed up with phone calls to ensure that the resident concerned remains supported. Another tranche of people (approximately 2,000 in the Broxtowe area) were identified via NHS sources, as potentially needing future support. These do not fall within the definition of "extremely vulnerable", but nevertheless through their age or circumstances are considered potentially in need of support. Broxtowe's officers have either contacted or telephoned these individuals to ascertain if they need support.
Personal contact has been key to support some of the most vulnerable in the community. As part of the response, the Housing department used the data held within the housing management system to identify households who may require additional support. Over 600 calls were made to tenants living in general needs housing who were either over 70 or were known to require additional support. The purpose of these calls was to ensure that tenants were provided with advice and assistance. Repeat calls have been made to those individuals needing support. Independent Living Co-ordinators continued to have regular contact with over 1,400 tenants from Independent Living schemes via telephone.
Through these initial calls officers could identify who required additional support, and could signpost to other agencies or ensure that the tenant received regular calls from the department.
All activities at schemes have stopped during the pandemic. However, the Activities Co-ordinators have continued to support tenants. They contacted tenants who usually attended their activities or those who were referred by other Officers. They gave advice, support and company to them. A lot of the tenants they continued to work with live alone and have been self-isolating for a long time so are feeling the effects of the pandemic, emotionally and physically. The Activities Co-ordinators have shared information with them about at home exercises, online resources such as eBooks and at home activities ideas.
The approach was repeated to check in on vulnerable people in the wider community, with those registered on the Council's assisted bin collection list also contacted to ensure they were safe and well and to signpost them to any support should they need it.
Communication
More widely, the Council devised a programme of scheduled updates to help prevent information overload and ensure key messages reached residents and stakeholders which was supported by a set of comprehensive webpages at www.broxtowe.gov.uk/coronavirus as a central source of information including support for residents, support for businesses, bereavement support and a list of businesses who were operating to help residents get essential supplies. The schedule included twice daily social media and website updates which were clearly dated and timed so it was immediately clear to residents that information was current, as well as three email bulletins a week focusing on all subscribers to the Council's email me service to provide essential Covid-19 advice and updates on Council services, as well as an email to tenants and one to businesses sent weekly. This schedule has been reviewed on a regular basis to ensure it adapted to the situation as it progressed.
A Covid-19 special of the Council's resident's newsletter was delivered to every home and business in the Borough, highlighting where support could be accessed, as well as providing community leadership and thanking residents for their support for the Stay home - Protect the NHS - Save lives policy during the pandemic. This ensured that those who aren't online were still able to get vital information.
Direct engagement has also taken place with stakeholder groups to ensure they have the correct messages to share in their networks and that the Council can highlight the vital work they are doing in their communities.
The Council's Communications Team have produced stories of local heroes raising money to support the humanitarian response, and in particular stories of the excellent work done by the mutual aid and voluntary groups responding to the needs within the community and the chief Executive produced a bi weekly and then weekly bulletin to Members, MPs, Parish and Town Clerks and senior managers updating everyone on the council's Covid-19 responses.
The arrangement followed by the Communications team have been documented and published by the LGA on the site of good practice examples. Well done to the Communications team.
Play Areas
Playgrounds across the Borough began re-opening Monday 13 July 2020. The Playgrounds are being inspected to ensure that they remain safe, the areas are being weeded, cleaned, and bark raked where appropriate. Due to the number of Playgrounds involved it was originally planned to open the sites in three phases. However, progress has been swifter than expected in relation to the preparation work and therefore it is anticipated that all sites will be opened by Friday 17 July 2020. A small caveat to this is the site at Hall om Wong, Kimberley which is currently being refurbished as part of the Council's investment in the Play Strategy and two site managed by Parish Council's namely Awsworth and Trowell that, as at 2pm Monday 13 July 2020, had yet to confirm the date of opening.
Housing
Work to deliver the Council's Housing Delivery Plan is progressing well. Construction has begun on two dementia-friendly bungalows on the site of the former Beeston market on Willoughby Street. The layout, design and colours used have been specially designed to support the needs of those affected by dementia. Both bungalows are fully wheelchair accessible. Air source heat pumps and photovoltaic panels are being used to ensure that the dwellings are energy efficient. In addition to this, planning approval has recently been obtained to build five one bedroom homes for ex-service personnel on an underutilised garage site on Oakfield Road in Stapleford. Once built, homes at both schemes will be let to applicants from our waiting list.
Although we have been unable to visit our tenants as usual over the last few months Housing Officers and Independent Living Coordinators have been telephoning tenants to maintain contact. Over 1400 Independent Living tenants have received regular telephone calls. Our Activities Coordinators have continued to work with those who usually attend activities in our schemes and have provided advice, support and company, particularly to tenants who live alone. They shared information about at home exercises, online resources such as eBooks and at home activities ideas.
Our Income team have been pro-actively working with tenants who are experiencing financial difficulties at this time and referrals to our Financial Inclusion service have assisted people to maximise their income and continue to pay their rent. Where people are having difficulty paying this is being dealt with sensitively. Many landlords have reported an increase in rent arrears at this time, however recent benchmarking with HouseMark, an organisation that compares housing performance, shows that our rent arrears are significantly lower than the average.
Our work to support those who are homeless or at risk of homelessness has continued throughout the pandemic. 19 people who were assisted through the provision of temporary accommodation have now been supported to move into permanent accommodation. In partnership with the Co-op over 160 food parcels were delivered to homeless people living in our temporary accommodation during the pandemic.
VE Day and VJ Day
Recognising the importance of VE Day to remember all those involved, as well as providing an opportunity to focus on something other than the pandemic, particularly for older residents who may have been isolated at home, Virtual VE Day celebrations were organised back in May which included five things residents could do from home to celebrate from dressing their windows and a specially design children's activity pack, to leaving a message in an online book of thanks and taking part in the Nation's Toast along with other activities taking place nationally on the day. Video messages were also recorded and one of our employees wrote and shared a poem about hope, all of which were shared online. These virtual activities were very well received by residents and we received over 50 stories from residents who celebrating VE Day back in 1945 and those who were marking the 75th anniversary.
15 August marks the 75th anniversary of Victory in Japan – otherwise known as VJ Day. Unlike VE day in May, VJ day focusses on reflection, rather than celebration. As a Borough we will be commemorating and considering what this meant for the world including various virtual activities for families to do at home such as downloadable activity packs, an online book of reflection. More information will be shared very soon and I would like to ask all members to share these resources with people in their communities so that this important occasion can be marked appropriately. Further activities may be shared as we receive guidance from the Government about how VJ will be marked nationally.
Four short, private ceremonies in each of the Borough's four town centres will also take place. I am saddened that we cannot undertake more public events but this will not be possible whilst social distancing measures an in place, nor would we want to put any one at risk.
Finally, a number of videos will be produced to be released on VJ Day to encourage residents to take time to reflect. Any members who would like to be involved in this should get in touch with the Communications Team as soon as possible.
VJ Day Celebrations Licensing Information
The following was circulated by the Home Office on 24 March 2020 regarding both VE and VJ day:
"Dear all, as you are aware, the Government had previously announced our intention to extend opening hours for licensed premises for VE Day in May and have consulted on an extension for VJ day in August. However, given the official advice to limit the spread of Covid-19, we will no longer proceed with these plans. The national commemoration events to mark VE Day 75 will be scaled back in order to protect the health and wellbeing of the Second World War generation and members of the public.
As this is a developing situation, if circumstances allow leading up to VJ day, premises may wish to apply for a Temporary Event Notice to extend their opening hours. The UK Government and the Devolved Administrations are working on new plans to ensure the public can still thank the Second World War generation on VE Day in May and provide the fitting tribute they deserve."
Reopening of Retailers
The majority of businesses can now reopen, and with this multiple premises are inviting customers back in to their shops and cafes. Whilst the public may be nervous businesses are working hard to put in the correct procedures and tools to ensure that they can have full confidence in returning. To support this, we have two new Covid-19 Information Officers, engaging with businesses face to face throughout our high streets helping answer business owners' questions and advising them on what they can do to make sure their business is fully Covid-19 secure.
From an Environmental Health perspective, we have been giving advice both proactively and reactively to businesses to help them re-open safely. We have been providing advice to specific sectors as the rules have been changing to help them implement changes needed. Since March we have dealt with over 90 complaints regarding businesses that should not be trading or where there have been concerns about staff or customer safety and have served 1 prohibition on a pub that was trading when it should have been closed.
We also have also carried out targeted communications to reach as many businesses as possible and are working on county wide sector outbreak plans, to enable us to deal with any local issues and been giving advice as businesses have changed their methods of operation (e.g. to takeaway), seen an increase in new food businesses starting from home and have been giving advice to premises which offer animal activities (e.g. animal boarding) and beauty treatments which are a higher risk activity needing good controls in place to maintain customer safely. Environmental Health has been dealing with a food poisoning outbreak associated with a change in food handling operations and the investigation is ongoing.
Reopening of Licensed Premises
All on-licensed premises were contacted on 2 July reminding them of the need to have completed their risk assessments to ensure the safety of their staff and customers. They were also reminded of the guidance issued by the Government.
Prior to that a number of enquiries were dealt with by both the Licensing and Environmental Health Teams to assist licensed premises. During the closure period, despite a number of reports of premises being open and breaching the regulations, only one licensed premises received a prohibition notice and the Police and Council were supported by the Premises Licence Holder who removed the Designated Premises Supervisor. The premises currently remain closed.
On 3 July the Licensing and Environmental Health Teams were made aware of a premises in Eastwood who had erected a large red inflatable marquee for the viewing of the Nottingham Forest v Derby Match to be played on 4 July with a 12.30 kick off. Environmental Health visited the premises that evening and issued advice on how to safely undertake the viewing.
On 4 July, when premises were able to open, the Licensing Manager visited a number of licensed premises in Eastwood and Kimberley, including the afore mentioned premises. The event looked to be well organised and safely run, to the satisfaction of the Police Inspector, Police licensing team and the Council's Licensing Manager. The Licensing Manager visited a number of premises and was impressed by the organisational standards viewed.
Midlands Engine Development Corporation
The following letter was received from Rt hon Robert Jenrick MP dated 12 July 2020:"Thank you for your letter of 20 March and summary business case for the Midlands Engine Development Corporation proposal - Alchemy Project.
I was very pleased to see the strong progress you have made. I congratulate you and local partners for that progress with this excellent proposal, despite the difficult times we have faced over the last few months. Your continued commitment to develop a shared ambition for transformational change in the East Midlands is testament to the strength of collaboration and feeling of all local stakeholders to see the East Midlands levelling-up.
I fully support your intention to establish an interim vehicle, whilst legislative options are explored, to further cement the collaboration and to drive this project forward to help deliver the economic recovery and future prosperity we all want for the region. I was interested to read from your summary business case that the Alchemy Project encapsulates a range of different interventions connected by a thread of innovation with the aim of a sustainable future for the way we live, make and move. I would encourage you to continue to work with my officials to develop the range of proposals into investable - private and public - propositions to help drive the recovery of the East Midlands. Further to this, I understand Homes England are working with you on developing the case for further investment in relation to Toton and Chetwynd, and I look forward to hearing further from you when these proposals are developed ready for future funding opportunities.
Thank you again for taking the time to update me on development of the Alchemy Project. As we move forwards in re-opening the economy, and as restrictions are lifted, I would welcome a further conversation on the next phase of work and the launch of the summary business case. In the meantime, I look forward to continuing to work with you and the Midlands Engine Partnership as we continue to drive recovery into growth."
Support to Businesses
The Revenues and Benefits team has done fantastic work in getting grants out to businesses in Broxtowe.
 Retail Discount & Expanded Retail Discount - for all retail, hospitality and leisure businesses in the borough for rateable value under £51k.

541 properties receiving £16,867,429 relief.

22 Nurseries also received £203,992 relief.

Small Business Grants - approved to award £10k to those receiving Small Business Rates Relief. 1,114 properties received grant totalling £11.15m

Rural Rate Grants - 3 properties were granted a total of £30,000
Retail Grant
Approved to award two retail grants based upon rateable value of the property of either £10k or £25k to those in retail, leisure and hospitality where their rateable value is between £15 to £51k.
Rateable Value 1 to 15,000
200 properties grant total £2.05m

Rateable Value 15,001 to 51,000

180 properties grant total £4.5m.
Business Grants
Total eligible businesses £1,491

Total grants paid £1,381

Percentage paid 92.7%
Grant Value:
Total Eligible £17,450,000

Total Paid £16,395,000

Percentage paid 91.6%
Discretionary Business Grant
In addition to the nationwide business grants, the revenues team have developed a discretionary business grants scheme to help those businesses that have not had support through any other scheme. This remains ongoing but will assist local businesses with funding of £883k.
NNDR Collection
As far as collection of NNDR is concerned last year £27m was collected, and this year the collectable amount will be reduced to £11m.
In addition to the distribution of grants and reliefs, the economic development team produced a list of Broxtowe's businesses which were/are "open for business" in terms of providing home deliveries, takeaway services for residents and made that available on the council's website.
Council Tax Support
The Council Tax Support Scheme, unlike many other Council's, is still based on a maximum 100% eligibility for those that are entitled. This has provided ongoing support for those that have been directly affected by Covid-19. This is reflected in the increase of working age people claiming Council Tax Support going from 3,827 on 11 March 2020 to 4,175 on 30 June 2020.
The Council has also been given £816,000 to support those having difficulty paying their Council Tax. Due to the fact that Broxtowe already have a Council Tax Support scheme of a maximum 100% eligibility, it means we have been able to support those of working age with an additional amount of up to £300. So far, we have supported 1,492 low income families and paid £359,000.
Economic recovery in Broxtowe
The Jobs and Economy Committee has approved a short, medium and longer term approach to rebuilding our economy.
SHORT TERM: Rebuild confidence; develop an initial action plan to support re-opening town centres; complete growth projects already under way and gather new data.
Actions proposed are:
Developing a "Re-opening the Town centres" recovery action plan to support safe and useful ways of supporting town centres to re-start after the pandemic

Gathering data on local economic needs and views of the local business community (which I have already mentioned)

Developing plans, working in partnership and lobbying for funding for Stapleford Towns Fund, ensuring the Towns Fund bid proposals are linked to economic recovery. The intention is to submit a towns Fund bid in October this year.

Continuing and ensuring the success and contribution to economic recovery of existing council-led initiatives to boost economic growth including completion of Stapleford business hub and Beeston Regeneration phase 2.
MEDIUM TERM: Add to the Recovery action plan ideas gleaned from consultation; Develop a new Economic Development and Regeneration Strategy; Start already funded projects and ensure all committees contribute to economic recovery through their existing plans.
Actions approved are:
Following the consultation, developing further actions to include in the economic recovery action plan

Continuing and ensuring the success and contribution to economic recovery of existing council-led initiatives to boost economic growth including development of Mushroom farm new industrial units

Updating local economic and industrial strategies for the new context and ensuring that our climate change investment programmes, our leisure facilities strategy and our housebuilding programme support economic recovery and deliver jobs and apprenticeship opportunities.
LONGER TERM:
Developing proposals for attracting D2N2 funding in Eastwood and Kimberley.

Developing plans, working in partnership and promoting long term economic benefit to the whole Borough of the Toton innovation campus through the emerging Development Corporation, ensuring links to economic recovery.
The financial impact on the Council's finances has been severe:
Total estimated spending pressure to early July amounts to £237,000

Total estimated income losses are estimated to be £2,402,000
The Government provided a grant of £1,187,365 to Broxtowe Borough Council. The grant was utilised to provide support to various community groups (£66,000), with the balance being set aside in general balances to meet the significant shortfalls in income and additional spending pressures.
Our financial strategy aims to maintain a minimum £1.5m balance, and our current estimates suggest that this level will be reached at the end of 2021/22. There is therefore an urgent requirement to focus on a refreshed Business Strategy and financial recovery plan, reviewing all areas of spend, and commercial opportunities.
A further financial settlement is expected, however, the detail of which is yet unknown.
Finally, we must also ensure our Green Futures programme fully embraces the opportunities of the dramatic reduction in carbon emissions during the lockdown period, giving:
a new impetus to green agendas

the fresh opportunities of local people rediscovering local green spaces and essential services within a 10 min walking radius of where they live.

Embedding behavioural change to save the planet: less commuting and more homeworking

Capitalising on changes to previous modes of travel by promoting pedestrianisation, increased cycle infrastructure, and promoting public transport.
I would like to pay tribute to the tremendous efforts of members of the community and voluntary sector, Council Members of all parties working hard within their wards to support local people, and of course our own Council employees delivering key services and supporting local people within the community.
Our crematorium and cemeteries services have been right in the front line during the last few months, supporting many bereaved people in grieving for their loved ones and saving goodbye in the most tragic of circumstances. They have been busier than they have ever been, and worked many hours of overtime to do what was needed in a timely fashion. Volunteers from other teams – especially the grounds maintenance team, volunteered to help out. I am tremendously proud to tell you that not only did these teams rise to this challenge, but they have just been informed that they have been awarded gold awards (the highest available) for the quality of their service from the professional institute relating to their profession. Louise Singer is the Manager at the crematorium. She started in Broxtowe in 2002 as a clerical assistant in the Council tax section, and was promoted to Council tax assistant two years later. She then became the ICT Service Desk Operator and moved to the crematorium 9 years later as an Administrative Assistant. Two years after that she was promoted to senior Administrative Assistant and one year after that she was seconded to be Interim Bereavement Services Manager, being appointed to the permanent Managerial position shortly afterwards. Not only did she achieve a gold award for the crematorium within her first two years of securing the senior management position, but a year later she has not only managed the crematorium during the biggest crisis the service has ever had to cope with in its history but retained the gold award and secured a gold award for the cemeteries service as well. She is a prime example of the best of Broxtowe – and a great example of the way we as a Council invest in our staff and give them opportunities to learn, develop and progress their careers.
This has been an extraordinary time, but I am proud of the Council's response. I am optimistic about the future, but realistic enough to know that rebuilding our economy and supporting our community will be a long term process involving much hard work and hard decisions along the way.
Therefore, in conclusion Madam Mayor, I would like to place on record the gratitude of the Council's members for the incredible work that they have done during this period. I would also like to take the opportunity to thank all the NHS staff, the voluntary sector, community groups and individuals that have helped to make Broxtowe a much better place to live and work, and have mad an immense contribution in ensuring that nobody has been left on their own in our community.
---
---