Broxtowe's high streets ready to re-open safely next week
12/06/20 - Work is well underway to prepare Broxtowe's high streets to re-open safely next week.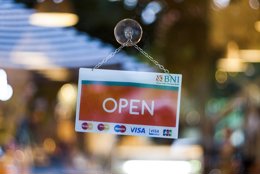 Whilst some businesses have been able to adapt and offer alternative ways of shopping already, Monday 15th June will see the remaining non-essential retail businesses able to open under new Government guidelines, providing they have ensured they are COVID secure.
Broxtowe Borough Council has also been working with Nottinghamshire County Council to install signage in its four town centres and other smaller shopping areas to help shoppers and businesses adhere to social distancing guidance. Shops who have completed risk assessments allowing them to re-open will be required to display signage to show customers they are COVID secure.
Residents visiting the town centres are asked to do the right thing to protect themselves and others by:
Keeping a safe distance from others
Trying to visit at less busy times and not visiting in groups from your household where possible
Adhering to guidance from businesses about how to shop with them
Regularly washing their hands/sanitising their hands
Staying at home if they have any of the symptoms of COVID-19 including new continuous increase cough, shortness of breath, loss of taste or smell and self-isolating.
Face coverings must all be worn on public transport from 15th June and residents may wish to wear them whilst shopping. View the Government's guidance on face coverings (Opens in a new window). 
If you can support local businesses online, please continue to do so.
Anyone who is concerned about a business not operating appropriately can report this to the Council by emailing health@broxtowe.gov.uk
Councillor Tim Hallam, Chair of the Jobs and Economy Committee said:

"There's no denying that the last few months have been tough on our local businesses and we are working hard to support the re-opening of our high streets safely. We've provided over £16m in grants and additional financial support so far to help businesses stay afloat and the Jobs and Economy Committee will be discussing how the £101,458 we have been awarded from the Government's Re-opening High Streets Safely Fund will be spent when it meets next week.
In preparation for further business consultation, which will inform the Council's COVID-19 Recovery Plan, an initial survey asking businesses how they view the upcoming 6-9 months is currently being undertaken. This survey is still live until 12 noon on Monday 15th June and can found at https://www.surveymonkey.co.uk/r/covid-business (Opens in a new window). Data collected will both inform longer term planning for economic recovery from COVID-19, but may also help identify immediate actions that can be implemented using the 'Re-opening High Streets Safely Fund.'
Things aren't going to go back to normal overnight so we'll be engaging with businesses and residents in the coming weeks to see what is working and where else we need to focus our efforts. This will help us to develop plans to revitalise the local economy in the longer term."
---
---