Free Bulky Waste Removal Weeks
10/11/20 - Broxtowe residents can take advantage of a series of free bulky waste removal weeks this winter to help them dispose of large items like furniture and fridges.
Broxtowe Borough Council have organised three free bulky waste weeks as part of their Clean and Green campaign to help keep the area tidy and reduce cases of fly tipping in the area.
Residents who can take items to their local tip, can continue do so during lockdown, as tips across Nottinghamshire remain open during this second lockdown. Free bulky waste weeks are for residents who are unable to get large items to the tip safely this winter.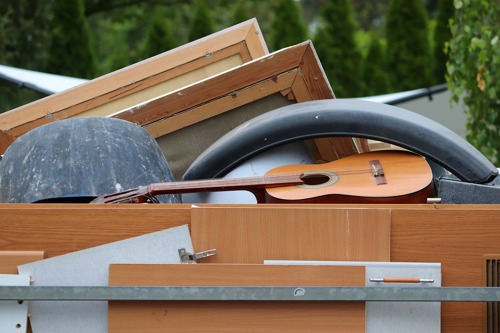 The first of these collection weeks will start on 7th December 2020, with bookings for slots on this week to be made available from 9am on Monday 16th November.
Chair of the Environment and Climate Change Committee, Councillor Helen Skinner said: "We are really pleased to offer these bulky waste weeks as we know it's not always easy to get to a recycling site to dispose of bulky items and not everything fits in household bins. We hope that these collections will help residents get rid of their unwanted items more easily and also reduce the temptation to fly tip which can cause serious environmental issues".
Due to high demand for this service last year, Broxtowe Borough Council are asking residents who want to book a slot on this date, to email cleansing@broxtowe.gov.uk (Opens in a New Email Window) with their full name, address, list of bulky waste items (up to three only) and contact telephone number, from 9am on 16th November. Residents who don't have access to email can call 0115 917 3855.  Any emails or calls received before 9am this day will not be accepted.
Once all the slots are booked, the Council will close for bookings for 7th December week, but, residents are urged to look out for details of further free bulky waste collection weeks in the future. If residents make a request via email or phone this time and don't receive a confirmation, it means all slots are full and they have not been successful on this occasion.
What can and can't be removed
| | |
| --- | --- |
| Can Collect - Examples | Don't Collect - Examples |
| Furniture | Asbestos |
| Electrical goods (fridges & freezers - clean and empty) | Building rubble and bricks |
| Beds/mattress | Gas bottles |
| Carpets | Piano |
| Doors | Soil |
| Radiators | Turf |
If residents are unable to book a slot on any of the free bulky waste collection weeks this winter, they can still take advantage of the Council's bulky waste collection service with payment. The service costs £13 per collection, plus £7 for each item of waste collected from the home address.
To stay COVID-secure, teams can only collect items which have been confirmed as booked in with the Council, have been left outside the home and not touched for 72 hours. This is important in keeping council teams safe when collecting bulky items during the COVID-19 pandemic.
For more information about what bulky waste is, visit www.broxtowe.gov.uk/bulkywaste 
Terms and conditions of the free service
 Properties can only use the service once over all the 3 week periods. If a resident successfully books an item for the week commencing 7th December, we will not book other free bulky items for that property on any future weeks that are advertised.
A property can book up to 3 items of bulky waste.
If the lorry capacity is full and we have already agreed to take your bulky waste item(s), we will re-arrange the collection with a new date. You will not be charged if we have to reschedule the collection date.
The regular paid bulky collection service will run during the week of the free bulky waste collection.
Items must be outside the property for collection on collection day.
If you have already paid for a bulky waste collection, there is no refund for this service if the reason is to swap for the free bulky waste collection week.
Terms and Conditions of Bulky Waste Collections 2020/2021
 Items for collection must be placed outside of your house for at least 72 hours before the arranged date of collection.
If you or a member of your household have symptoms of Coronavirus and are self-isolating, please ensure you book after your period of isolation.
The bulky waste collection team will not enter any buildings to collect items.  Items must be accessible from the outside of the property.
By accepting these terms and conditions you are confirming that you have the ownership of the items for disposal and will indemnify the Council against any third party claims made in respect of the items collected and disposed of.
The service charge is non-refundable
All cancellations must be made 2 working days prior to the collection date
Requests for refunds (for paid for collections) must be made no later than 1 working day before the service is due to take place
Items cannot be added or amended to the collection after payment has been received or booking made (for paid for collections)
If a false declaration has been submitted the Council has a legal right to refuse collection and withhold any refunds until the details have been resolved
The Council will only collect items that are listed on the confirmation order
All items stated on the confirmation order/quote must be accessible by 6.30 am on the allocated collection day and at the location indicated
The Council reserves the right to refuse to collect items which it considers may endanger the health and safety of operatives or which may damage the mechanism of the collection vehicle
---
---