Don't Lose Your Right To Vote
14/04/21 - There's only 5 more days to go before the registration deadline for the County Council, Police and Crime Commissioner, Beeston Rylands, Stapleford South West Borough Wards and Brinsley Parish Council elections and Broxtowe residents are being urged to make sure they're registered if they want to have their say.
There are a number of ways to have your say - you can vote at a polling station, by post, or by appointing someone you trust to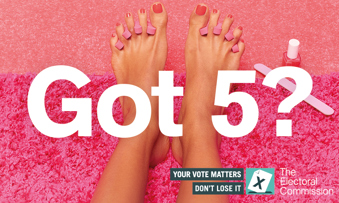 vote on your behalf, known as a proxy vote.
You can register online at www.gov.uk/register-to-vote (Opens in a New Window). If you cannot register online, you can call or email Broxtowe's Electoral Services on 0115 917 3250/3276 or e-mail elections@broxtowe.gov.uk.
Being on the electoral register is important not only to enable people to vote, but also when applying for things like a credit card or a mortgage as this can help validate information you provide. Make sure you're registered to vote by Monday 19th April.
For more information, please contact Broxtowe Borough Council on 0115 917 3250, email elections@broxtowe.gov.uk or visit www.broxtowe.gov.uk/elections
---
---