A new defibrillator for Beeston
20/08/2021 - A life-saving defibrillator has been installed on Central Avenue in Beeston.
With the help of local Councillors Steve and Barbara Carr, and in partnership with the Community Heartbeat Trust (CHT) (Opens in a new window) Beeston is now equipped with a new defibrillator. 
Councillors Steve and Barbara have already set up, and helped maintain, another piece of equipment on the other side of the A52 within the Beeston North ward. However, it was recognised that the Beeston Fields Estate, as a densely populated area, was also in need of a defibrillator.
Councillor Steve Carr has used his County Councillors Divisional Fund to pay for both of these pieces of vital equipment.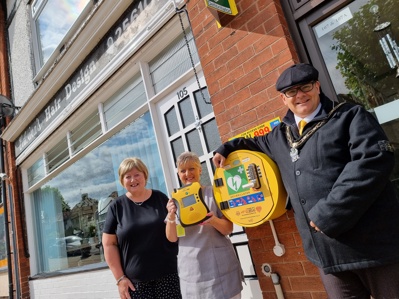 It is not just about the defibrillator though.
Martin Fagan who is the National Secretary of CHT, knows that these are medical devices and therefore need to be properly and sustainably managed by an effective governance system. The defibrillator is accessible to the public and therefore the correct liability insurance was needed. The CHT addresses all of these needs via their Managed Solution approach.
A cardiac arrest happens around 100,000 times a year in the UK. Statistics suggest that using CPR alone saves only about 5% of people who suffer a cardiac arrest, whereas doing CPR and using an Automated External Defibrillator increases the chances of survival to 50%.
Many residents from the local community have pulled together and set up groups in order keep the equipment safe and operational, well done to them for volunteering.
The defibrillator is a really important piece of community equipment and congratulations to everyone who has been involved in its installation and those who will support it going forwards.
---
---