Beeston Muslim Centre Encouraging Residents To Get Their Vaccine
Beeston Muslim Centre Encouraging Residents To Get Their Vaccine
22/02/2021 - Beeston Muslim Centre is encouraging local residents to get their COVID-19 vaccine when invited to make an appointment thanks to a grant from Broxtowe Borough Council.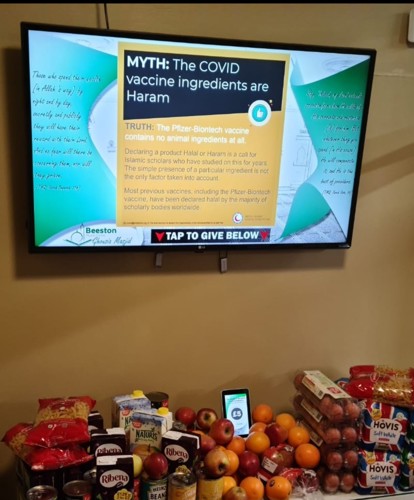 The Centre was awarded a grant from the Council to support their efforts to promote the COVID-19 vaccination programme in the Muslim community.
As part of their campaign, volunteers at the Centre have:
Been working with the British Medical Islamic Association to share information and offer reassurances about the vaccine.
Organising weekly community webinars by a medical professional.
Providing information at Friday prayers.
Distributing flyers with key information about the vaccine.
Community radio announcements.
Created a database of local members of the community to contact them and provide them with factual information about the vaccine.
Developing a website to share health and wellbeing information.
Delivering a survey to identify attitudes in the local Muslim community about taking the vaccine to help those with concerns or worries.
In addition, they have used the funding to provide single parent families with food packs to help them get by during these difficult times.
Mansoor Ahmed, Chairman of Beeston Muslim Centre said: "It's has been very encouraging to know our community elders and other vulnerable groups have been proactive in taking the vaccine. We have medical professionals in our community who are happy to clear up any misconceptions about taking the vaccine. Our excellent partnership with Broxtowe Council has been very helpful in these challenging times. We thank them for them for their continued support and look forward to building an even strong partnership to meet needs of our community."
Councillor Greg Marshall, Chair of the Finance and Resources Committee said: "It's great to see local community leaders supporting this important message and helping the Council and its healthcare partners to get the vaccine programme rolled out as quickly as possible.
The latest information about the vaccination programme and who is able to get their vaccine can be found on the Council's COVID-19 Vaccine page.
---
---