New Dementia Friendly Homes Completed In Beeston
05/02/21 - Two new dementia friendly bungalows have been completed on site of the former Beeston Market, ready for new occupants to move in shortly.
The new occupants have said, "We are so looking forward to moving into the new bungalow, it will make such a difference to us and enable my husband to gain back some of his independence. We are especially looking forward to being able to get out into our new garden and tend to our new flower beds and enjoy this with the grandchildren – everything will change for us and improve our quality of life enormously"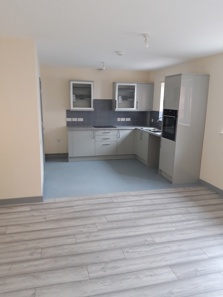 The homes, on Willoughby Street, have been developed by Broxtowe Borough Council as part of its House Building Delivery Plan which is designed to meet the housing needs of the local community.
Nottingham Developments Ltd. were appointed following a tender process, as the contractors for the bungalows, which have been specially designed to support the needs of those affected by dementia and their carers.
This includes:
Open plan living with good visual connection of spaces.
Covered entrance with improved security and observation.
Large entrance hall
Kitchen and dining area is integrated into the living area with good natural daylight.
An external charging point for a mobility scooter is available in the secure area at the back of the property.
Sheltered rear space allows enjoyment and activity outside.
A raised area for planting encourages outdoor activity that will maximise sunlight exposure and the manufacture of vitamin D.
All rooms, apart from the visitors' WC, offer views for light and sense of orientation. Additional storage room.
Detailed design will address visual clarity, appropriate colours & contrasts, ergonomic handles/supports and a variety of visual keys.
Wheelchair accessible including a wheelchair compliant wet room and scope for some lowered kitchen worktops for food preparation.
Councillor Janet Patrick, Mayor of the Borough of Broxtowe said: "I have been involved with the Council's commitment to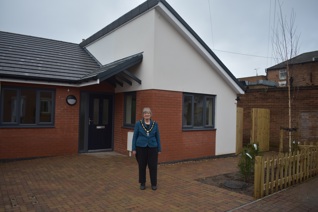 supporting people living with Dementia since 2013. Broxtowe has led the way by building Dementia Friendly Bungalows, in Eastwood, Beeston North and now here in the centre of Beeston. I am so proud to see these bungalows completed.
A spokesperson for Nottingham Developments Ltd said, ''It has been a pleasure for Nottingham Developments Limited to work with Broxtowe Borough Council on their dementia friendly bungalows in Beeston.  The bungalows have been very well designed for living with dementia.  We are sure tenants who will to be moving into these exceptional bungalows will be very happy living there.  Broxtowe Borough Council has a fantastic 10-point plan with their Dementia Friends policy, and we here at Nottingham Developments support the council and hope to work again building a better future for people living with dementia. ''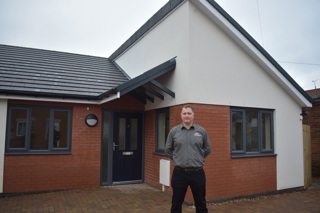 The properties have also been built to high energy efficiency standards and include photovoltaic panels and air source heat pumps with under floor heating to help us with our target to become carbon neutral by 2027.
The Council already has existing dementia friendly bungalows in Beeston and Eastwood.
For more information, please contact Broxtowe Borough Council on 0115 917 7777 email housing@broxtowe.gov.uk or visit www.broxtowe.gov.uk/dementia
---
---