Hop onto the vaccination bus on Tuesday 3rd August
Hop onto the vaccination bus on Tuesday 3rd August
30/07/21 - The NHS COVID-19 vaccination bus will be coming into Beeston Fields on Tuesday 3rd August.
Anyone who is eligible can get the jab anytime between 11.00am – 3.00pm at Beeston Fields, Recreation Ground, Central Avenue, Beeston NG9 2QT.
There is no need to book an appointment and there will be both first and second vaccinations available.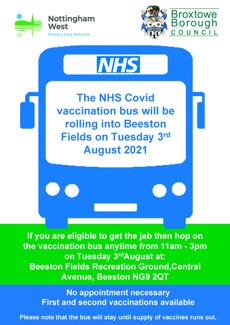 If you have anyone living in your house or know anyone who is yet to have the vaccination, please let them know the vaccination bus is available to them.
Thank you to all of our residents who have already had the vaccination, it's important we all do our part to keep each other safe.
---
---