Beeston's all-star cast to be honoured in art trail
10/03/21 - Beeston's local heroes are to be honoured in an art trail around the town.
Portraits to represent key workers - ranging from NHS staff to shop workers - will be displayed in various parts of the town centre as a thank you for all their hard work during the COVID-19 pandemic. 
The project has been commissioned by Broxtowe Borough Council and has cross party support. It's part of a series of events to mark the redevelopment of the town centre, with the portraits of Beeston's very own all-star cast due to be unveiled later in the spring.  
Artist Lydia Atkinson has been chosen to produce the portraits.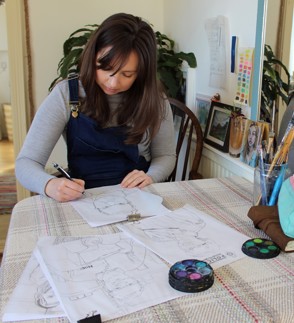 She said: "I feel really privileged to be involved in such a nice project. It's a really great way to celebrate the key workers who have been working so hard and have been there for us throughout the pandemic."  
Beeston town centre is currently undergoing a £50m transformation with a new eight-screen Arc cinema, food and drink outlets and 132 new homes due to be completed this year. 
The art trail will be launched to tie-in with the opening of the new cinema which is expected to take place in early summer, dependent on COVID-19 restrictions. 
Mayor of Broxtowe, Councillor Janet Patrick said: "There is such a wonderful sense of community spirit in Beeston and that's never been more obvious than during the pandemic. 
"We wanted to shine a light on all those who have been working so hard to keep the town and its surrounding areas running throughout the past year - whether that's the teachers who've been there for our children, the hospital staff who've put themselves at risk to help others, or the charity staff who've ensured no-one goes hungry. 
"We're looking forward to celebrating the real stars of the town." 
The opening of the cinema, food and drink outlets and a new 132-apartment block are the second-phase of a £50m project to transform Beeston's town centre. The development aims to significantly boost the town's evening economy and create new jobs. It will create at least 150 new jobs, boost footfall and town centre regeneration.  
The art trail will be installed once it is safe to do so under COVID-19 restrictions.
People will be encouraged to look out for familiar faces and share their snaps of the portraits on social media using #BeestonAllStars. 
You can see the latest Beeston Square film here https://www.youtube.com/watch?v=Feaw9cYtbzU (Opens in a New Window).
---
---