Broxtowe Marks Emergency Services Day 2021
09/09/2021 - Today on Thursday 9th September The Deputy Mayor of Broxtowe raised the flag to mark Emergency Services Day 2021.
The Deputy Mayor of Broxtowe Councillor David Grindell, along with the Leader of the Council Milan Radulovic MBE and representatives from the emergency services including; Mick Barnett-Connolly, Head of Community Response, Collaboration and Engagement, Derek Burnett Past Mayor and Community First Responder, Zac Goodspeed, Station Manager at Highfield Fire Station and Simon Riley, Neighbourhood Policing Inspector at Beeston Police Station.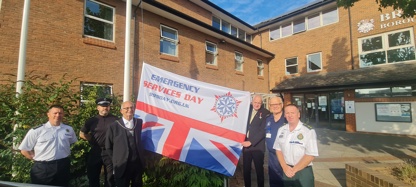 Before raising the flag The Deputy Mayor shared a few words, ''Emergency Services Day (also known as 999 Day) is a national day across the UK supported by HM The Queen, the Prime Minister and First Ministers of Northern Ireland, Scotland and Wales.
999 Day promotes the work of the emergency services, promotes using the emergency services responsibly, educates the public about basic lifesaving skills, and promotes the many career and volunteering opportunities available.
Volunteers are an essential part of the emergency services and they play a core part in keeping Britain safe. Roles include; Special Constables, Retained Firefighters, NHS Community Responders, St John Ambulance, RNLI, Search and Rescue and Coastguard volunteers.
Today we would like to say thank you to all the selfless men and women of the emergency services who work tirelessly to keep us safe and protect us in our hour of need. Thank you also to all the animals trained to work alongside them.
We take the opportunity today to think of those who serve in the emergency services, whose service is our protection. We remember and pay tribute to those who have served in past years. We recall in gratitude those who have paid the ultimate price in their task of preserving life and of upholding law and order. May all who serve or have served within the emergency service be forever in our hearts.
Today, we hope that our nation continues to show appreciation towards those who serve within its emergency services and not take for granted the precious work undertaken.''
---
---