Broxtowe Refugees Celebrate #MoreInCommon Event With Local Residents
10/08/22 - Broxtowe Borough Council teamed up with Marwa Solimon of Heya Nottingham once again, to deliver an open event from local refugees for residents across Broxtowe.
Being the first of its kind, the event was an initiative to engage with the Broxtowe community as part of Refugee Week, which allowed refugee residents to celebrate and be celebrated in line with the theme #MoreInCommon.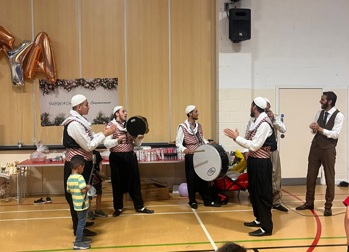 The event saw attendees to the tune of almost 200 people, and was a day filled with cultural food, dance, henna and other activities. The food, made by the local refugee women was entered for a competition, judged by local Councillors, Councillor Richard MacRae, Councillor Janet Patrick, and Chief Communities Officer, Marice Hawley.
The event was a chance for refugee residents to show that not only do we have #MoreInCommon, but also the rich culture, experience and life they bring to the Broxtowe Community. This was particularly highlighted from the moving speech by one of the Borough's young refugees, who shared her experience since moving to the UK and the positive support she has received (alongside the struggles she has faced to reach this point) since.
The event also allowed for extra support services to extend their message and engage, with stalls from Nottinghamshire Police hate crime team, Kumon educational services, and NHS vaccination nurses were on site.
Thanks go to local community groups that came together to celebrate how we truly have #MoreInCommon.
---
---