Eastwood: Coal, Community and Change
30/08/2022 - Walk in the footsteps of D.H. Lawrence himself to investigate the connection between the author, coal mining and his town of birth, Eastwood.
This aspect of the D.H. Lawrence festival will begin in the Birthplace Museum on 2nd September 2022. Alongside a free glass of wine, enjoy a free photographic exhibition of the Eastwood mining industry. These iconic images reveal the deeply ingrained heritage of Eastwood's coal mining past and its link to local arts, culture and heritage in the early twenty-first century.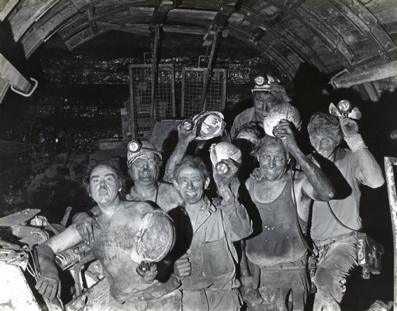 The exhibition is open to the public until the 26th November 2022 at D.H. Lawrence Birthplace Museum, 8a Victoria Street, Eastwood, Nottinghamshire, NG16 3AW.
On Monday evening, 5th September, Dr. Andrew Harrison will give an analysis of Lawrence's short story 'Strike Pay' and this will take place at the Horse and Groom Pub, Moorgreen, NG16 2FF.  This will be followed on Tuesday morning, 6th September 2022, by an illustrated talk by former miner Dr. David Amos, who grew up in a Nottinghamshire mining community and later became a coal mining historian and academic. He will explore the deep-rooted connection between Lawrence's work, the local coal industry and its community. Later in the evening, Malcolm Gray will talk about Lawrence's 'Odour of Chrysanthemums' reference to Brinsley. The talks by David Amos and Malcolm Gray will be held at Eastwood Baptist Church, Percy Street, NG16 3EP.
"I always see the Eastwood area as being the spiritual home for Nottinghamshire's coal mining arts, heritage, and culture." - David Amos.
On Wednesday 7th September 2022, join us for a four-hour walk (with a lunch break) looking at aspects of the Eastwood area's connections to coal mining heritage, arts and culture. Starting at Brinsley Headstocks car park at 10:15am, Mine2Mines Education will demonstrate the prototype of a digital landscape trail before taking a coal mining heritage-themed walk back to Eastwood. After a stop-off for some lunch and taking photographs, we will be talking in Eastwood Hall and Durban House, the latter where Lawrence collected his father's wages. To round off the journey, please enjoy some tea and coffee in one of the cafés near the D.H. Lawrence Birthplace Museum.
The Festival Finale, at 3:00pm on September 11th, will occur at St Mary's Church, Greasley, NG16 2AB, bringing together the history of the mining heritage through the dedication of the workers through hard times and the transformation of coalfields into the now present landscapes of natural beauty, of which we are stewards.
---
---