Final week to have your say on ambitious plans for the future of Chetwynd and Toton
Final week to have your say on ambitious plans for the future of Chetwynd and Toton
07/01/22 - Residents of Nottinghamshire and Derbyshire are being urged to have their say on exciting plans to create jobs, housing and transport links in and around Toton and Chetwynd, before Broxtowe Borough Council's public consultation come to an end on Friday 14 January.
The scheduled closure of the historic Chetwynd Barracks in 2026, and any proposed transport works around the potential Toton East Midlands Hub, provide a once in a lifetime opportunity to map out the future for the area, create cycle pathways, green spaces, new schools, healthcare facilities and modern communities, which offer affordable and carbon neutral homes.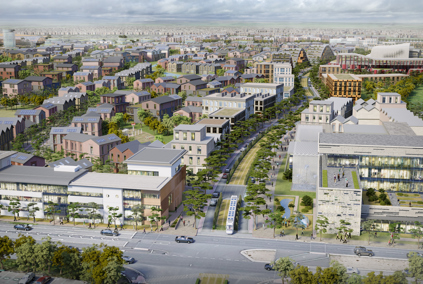 This 'Masterplan' for the development of the area is being shared through an innovative 'virtual exhibition' which is available 24 hours a day, 7 days a week until midnight on Friday 14 January, so people can view the proposals and submit their comments at their leisure, in a COVID-secure way. 
The Masterplan, developed over the last four years with Nottinghamshire County Council, supported by Erewash Borough Council and Derbyshire County Council, also forms part of an ambitious long-term vision for the future of the regional economy, which is being developed under the banner of the proposed East Midlands Development Corporation.
The vision will see coordinated development around Toton and Chetwynd, Ratcliffe-on-Soar Power Station and East Midlands Airport, with the aim of creating 84,000 jobs and adding £4.8bn to the value of the regional economy. 
Promotional leaflets have been distributed to more than 80,000 homes to raise awareness of the consultation, with posters on display in prominent locations.
Milan Radulovic, Leader of Broxtowe Borough Council, said:
"There is so much on the horizon for Toton and Chetwynd that will create more jobs and give a vital boost to our local economy, but we've got to make sure we get it right from the very start.
"I would really encourage all of our residents to go online before the consultation ends on Friday and be part of planning for this exciting future."
To see the plans, or take part in the consultation, or to find out more, visit www.virtualengage.arup.com/toton-masterplan(Opens in a New Window)
---
---