Make 2022 the year to go Green
Make 2022 the year to go Green
12/01/2022 - This January, Broxtowe Borough Council is asking residents to sign up for Green Rewards – it's free, easy to use and by signing up you are joining hundreds of Broxtowe users who are spending a couple of minutes each day to tackle climate change in Nottinghamshire.
How does Green Rewards work?
Users are rewarded 'Green points' for logging actions which reduce their carbon footprint and can then be exchanged for vouchers. There is also a leaderboard which participants can use to monitor how Broxtowe is performing.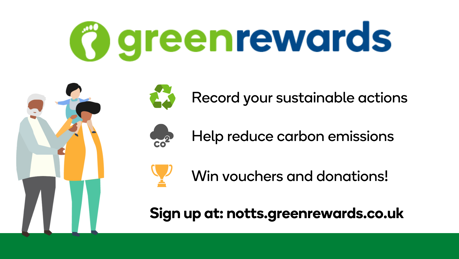 As part of Green Rewards, Broxtowe Borough Council is promoting small changes residents can make to make a big difference starting in January 2022.
How have Broxtowe users already made a difference?
Through participating in Green Rewards and carrying out a total of 5,000 green actions users have saved:
17 tonnes of carbon
77,000 litres of water
5 tonnes of residual waste
1603 single use items
How can I make a difference?
The different actions that residents can take to earn points fall under 6 categories with Green Rewards – Travel, Reduce, Reuse, Recycle, Energy and Carbon, Get Involved, Consumption and Nature.
Here are some examples of how you can easily get involved and points you can earn for activities.
How do I join?
You can sign up by visiting the Nottingham Green Rewards website (opens in new window) and following 'Activate Account' on the homepage. All you need to do is enter your postcode and email address.
You can also download the mobile app through the Apple store or Google Play Store – search for 'Notts; Green Rewards'.
Share your journey on social media!
Tell Broxtowe residents what you're doing to combat climate change by using the hashtag #GreenRewards and by commenting on and sharing our Green Rewards posts on Facebook (opens in new window) and Twitter (opens in new window).
---
---