Join us for our third Green Festival of 2022 at Pasture Road Recreation Ground in Stapleford
Join us for our third Green Festival of 2022 at Pasture Road Recreation Ground in Stapleford
11/07/2022 - Following on from two successful green festival events held already this year, Broxtowe residents will have the opportunity to attend the third of four Green Festivals being held in the borough in 2022.
Residents will be able to discover how we can all make lifestyle changes to reduce our carbon footprint - this will not only help to tackle climate change, but it will also align with the Council's commitment to becoming carbon neutral by 2027.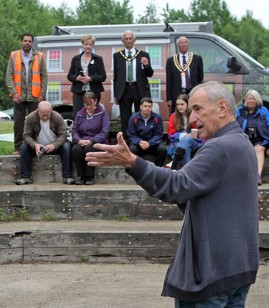 The festival will take place on Saturday 6th August at Pasture Road Recreation Ground, Stapleford between 12.00pm and 3.00pm.
Our Green festivals are free to attend. There will be environmentally-themed stalls along with nature activities for all ages to take part in, along with a variety of organisations to meet and speak with.
There will be opportunities to find out from leading sustainability experts on how we can all incorporate small lifestyle changes which can add up to make a big difference. There will be advice on topics including recycling, composting, climate change, wildflowers, biodiversity and much more. There will also be opportunities to discuss subjects such as switching to an electric vehicle, sustainable clothing, upcycling and allotments. The event will be supported by The Stapleford Town Council.
"The two festivals that have taken place so far this year have had an incredible turnout." said Portfolio Holder for Environment, Councillor Helen Skinner. "It has been amazing seeing how committed residents are to reducing their carbon footprint and how invested they are in these events. We are looking forward to an exciting day in Stapleford which has been made possible by the continuing support of all our partners and attendees."
Access to Pasture Road Recreation Ground can either be via Peatfield, Pasture or New Road (Just off Moorbridge Lane). There is also a local bus service you can use to access the entrance off Pasture Road. If you are travelling by public transport, the 20 and 21 buses go along Pasture Road.
You can find out more details on the upcoming festival along with other future events at www.broxtowe.gov.uk/greenfestivals or contact the Waste and Climate Change Manager at waste@broxtowe.gov.uk.
---
---