Broxtowe Parks Team collaborate with The Friends Group for conservation event
Broxtowe Parks Team collaborate with The Friends Group for conservation event
18/03/2022 - As part of Broxtowe's Green Futures initiative, this month the Council teamed up with The Friends of Watnall Green and Spinney to work on a project promoting the conservation of the borough's vital parks and open spaces.
On Friday 11 March The Broxtowe Parks Team worked in partnership with The Friends of Watnall Green and Spinney to host a practical conservation event at Watnall Spinney, a local nature reserve in Kimberley.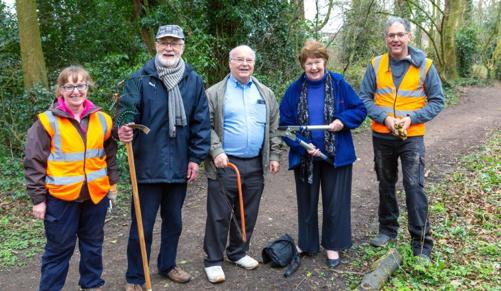 The Friends were joined by an enthusiastic team of volunteers from  E-ON as part of the Company's commitment to supporting environmental sustainability in the community. This is the first time that Broxtowe Borough Council has worked alongside a private business on a conservation project. 
Before commencing, the parks team explained the importance of good management in woodlands and provided a practical demonstration on the safe use of tools. Then, with over 20 participants, the group undertook woodland management to benefit biodiversity, including removal of invasive shrubs and the creation of habitat stacks. Other tasks included a thorough litter pick and pruning back along paths to improve accessibility. The pleasant early spring weather was a bonus and participants enjoyed the opportunity to learn new conservation skills.
Local ward Councillors Jill Owen and Robert Willimott, along with County Councillor Philip Owen were on hand to provide support and were highly impressed with the turnout and enthusiasm. 
The Friends group are committed to working with the Borough Council to manage the Green and Spinney to benefit wildlife and the local community. More information can be found on the group on their Facebook page. 
---
---