Fly A Flag For The Commonwealth In Broxtowe Borough
Fly A Flag For The Commonwealth In Broxtowe Borough
14/03/2022 - Broxtowe Borough Council joined the 54 countries of the Commonwealth to fly the Commonwealth flag in the Borough, as part of the annual Fly a Flag for the Commonwealth Day.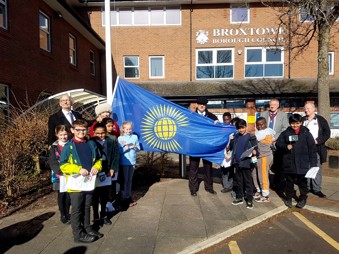 The Mayor of the Borough of Broxtowe, Councillor Richard MacRae, Deputy Lieutenant of Nottinghamshire, Judith Naake MBE and students from Round Hill school raised the Commonwealth Flag outside the Council Offices in Beeston at a special ceremony at 10.00am on Monday 14 March 2022. A message from Her Majesty The Queen and a specially written Commonwealth Affirmation were read out at the ceremony before the raising of the Commonwealth flag.
The theme for Commonwealth Day 2022 was centred around the theme for the forthcoming Commonwealth Heads of Government Meeting – 'Delivering a Common Future' – which highlights how the 54 member countries in the Commonwealth family are 'innovating, connecting and transforming' to help achieve goals like fighting climate change, promotion good governance and boosting trade.
Commonwealth Day is also a significant day in the royal calendar. The Queen takes her role as Head of the Commonwealth seriously, and throughout her reign has continually reinforced its importance. Given that it is Her Majesty's Jubilee Year, there was special focus on the role service plays in the lives of people and communities across the Commonwealth.
The Fly a Flag for the Commonwealth initiative is again catching the imagination of thousands of participants from all walks of life, inspiring them to join with others throughout the Commonwealth. As a collective public expression of commitment to the Commonwealth, it enables participants to show appreciation for the values the Commonwealth upholds, and the opportunities offered for friendship and cooperation with fellow Commonwealth young and old citizens around the world.
For more information about the Broxtowe event, please contact Broxtowe Borough Council on 0115 917 3210, email civic@broxtowe.gov.uk or visit www.broxtowe.gov.uk
Visit https://thecommonwealth.org/commonwealth-day for more information about the Fly a Flag for the Commonwealth initiative.
---
---