Safety Improvements At Hickings Lane Recreation Ground, Stapleford
Safety Improvements At Hickings Lane Recreation Ground, Stapleford
24/03/2022 - Over the last 9 months Broxtowe Borough Council has been working very closely with Nottinghamshire Police to improve safety for visitors to Hickings Lane Recreation Ground in Stapleford.
Following a successful bid to the Police and Crime Commissioners (PCC) in 2021, £25,000 was allocated by the PCC to provide new surveillance cameras, additional lighting and new fencing and gates on the park.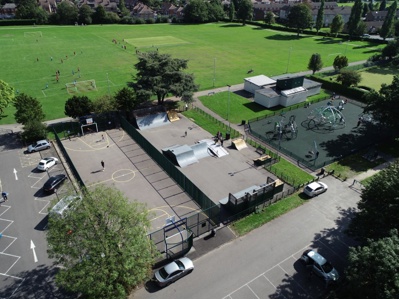 The new surveillance cameras have been installed adjacent to the play-area and skate park and monitor these areas including the pavilion and the multi-use games area.  The cameras are panoramic with 360 degree views of the area. Fitted with infra-red vision they produce very high quality images, even when it is dark.
The new floodlights illuminate the play area, skate park and pavilion. They are all on timers so they come on at dusk and go off at midnight.
The final phase of the work was new fencing and gates at the West Cross Avenue entrance.  This is now locked at night and opened again in the morning by residents.
Overall the project has been a huge success and a very good advert for partnership working.  There has been a significant reduction in reports of anti-social behaviour and complaints about youths congregating on the park.
Councillor Richard MacRae said: "I would like to thank the hard work of the Officers at Broxtowe Borough Council, who with the help and support and funding from the Police and Crime Commissioner's Office, have been able to make this happen. I am also very grateful to the local residents who are helping support this scheme." 
---
---