600 tonnes of carbon emissions to be saved by Council vehicle fleet
25/05/2022 - Around 600 tonnes of carbon emissions will be saved after plans to transition Broxtowe Borough Council's vehicle fleet to biofuel were given the green light by its Cabinet last night (Tuesday 24th May).
That's equivalent to making 2,531 round trips in a petrol car from London to Glasgow.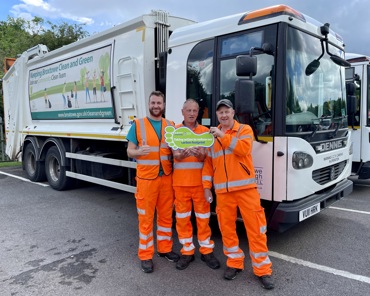 £42,000 was approved to make the move and help the Council move closer to its target to become carbon neutral by 31st December 2027.
"810 tonnes of carbon, which accounts for 26% of the Council's own carbon  emissions, comes from transport fuel. Investigating ways to decarbonise the fleet and reduce these emissions is a key priority for us," said Portfolio Holder for Environment and Climate Change, Councillor Helen Skinner.
"Whilst alternatives such as electrification and hydrogen fuel are a longer term concept, a reduction in fleet emissions can still be achieved in the shorter term through the use of alternative fuels, which require no capital or infrastructure investment," she added.
Biofuel, in the form of Hydrotreated Vegetable Oil (HVO), is a premium, high quality vehicle fuel made from renewable, sustainable raw materials and is an alternative fuel to diesel.
34 vehicles within the Council's fleet are HVO compatible and based on fuel usage for 2020/21, savings of 606 tonnes of CO2 emissions could be made. This represents a 74.8% reductions in the Council's fuel emissions and a reduction of 19.6% in the Council's total CO2 emissions.
As the fleet is replaced with newer vehicles, the number that are able to use HVO will increase.
For more information visit www.broxtowe.gov.uk/climatechange.
---
---