Grant funding secures healthier future for Stapleford food outlet
26/05/22 - A town centre takeaway food business is able to secure its future thanks to a £5,000 grant from the Town Centre Recovery Fund.
Like many businesses, the pandemic was hard for family-owned Sun Shine Fish and Chicken on Derby Road, and the rise in the price of oil and a lack of availability of oil has been a real worry.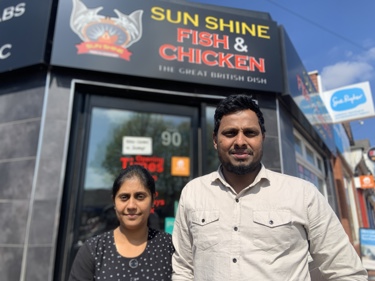 The marketplace has also changed with more demand from local people for healthier options.
Subaranjani Kapilraj, who has run the business since October 2020, said: "Business has been very slow. Oil has been in short supply and we've had to increase our prices to keep the business going. We've had to look at other ways to secure the future of our business."
The grant will fund a new rotisserie machine that means the business is not solely reliant on oil and Subaranjani can diversify his menu, offering a range of new healthier grilled chicken dishes.
"This grant means we can offer grilled food for the first time, something that isn't available in Stapleford at the moment, and it's healthier too, which is something that we know people want," he added.
---
---