New Accommodation For Ex Service Personnel In Stapleford
5/05/22 - Mayor of the Borough of Broxtowe, Councillor Richard MacRae officially opened Tom Martin House today, the recently completed construction of five one bedroom flats in Stapleford.
The flats were built by local firm Vaughandale Construction Limited and will be let to ex service personnel on the Council's housing register. This is part of the ongoing work to meet the Council's commitment to build 230 new social homes over the next 10 years.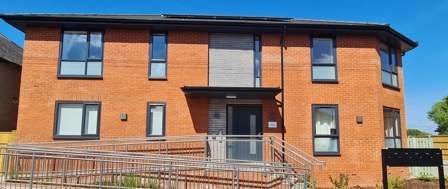 Councillor MacRae said, "These properties are important to support the mental health and wellbeing of ex service personnel. It's the sacrifices of these people that gives us the freedoms we have today. They've looked after us for years, so we've got to do our bit to look after them.''
The new homes have been named after the late Tom Martin, who had been in Stapleford for only three months when war broke out. He enlisted in 1940 and went on to be awarded the French military decoration the 'Croix de Guerre'. He served throughout the Africa campaign from El Alamein to Sicily and went to France on the day following D-Day. He then served in Belgium and Holland and took part in the battle for Germany.  Later returning to Stapleford serving residents as local Broxtowe Councillor, Mayor for Stapleford and Broxtowe and then became an Honorary Alderman of Broxtowe Borough.
Colonel Gavin Hatcher, Commander of 170 Engineer Regiment, based at Chetwynd Barracks in Chilwell said, "It's a real privilege to have been here today I think the back story behind the name of Tom Martin is really compelling and the fact that Tom Martin was so altruistic is really fitting. It's great that the community have come together to look after veterans within the community."
The new flats:
meet all the room sizes as set out in the National Space Standards
have bathroom and kitchen fans that provide continuous ventilation to the properties
have off street parking spaces and a secure communal garden
have been awarded a Secured by Design rating of Gold for their safety and security
The new flats also have good green credentials:
have showers (not baths) to assist in reducing water consumption
as well as excellent insulation each flat is individually fitted with an air source heat pump and solar photovoltaic panels. No gas is supplied to these properties.
One of the new tenants said, "Moving in to one of the new flats has given me security and stability in relation to my disability and whether I may not be able to work in the future. I have moved around a lot and this flat now allows me to hope that this will be the last property I will live in and gives me that future where I can put my roots down. Living with other ex-service personnel has given it a family feel to living here."
---
---