New lease of life for dilapidated Stapleford building thanks to Town Centre Recovery Fund
12/05/22 - An important Stapleford high street building will soon offer new business opportunities for people in the town thanks to a £97,330 grant from the Town Centre Recovery Fund.
The Victorian 20 Derby Road, used most recently as a commercial storage facility for local tradespeople, will be converted into three fully accessible offices, with green-spaces and cycle storage with charging points.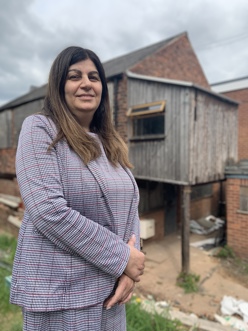 The building is owned by local property owner Barbara Demetriou, who owns a number of high street buildings.
20 Derby Road has had a variety of uses over the years, and despite the owner's grand plans for converting the building, the increased costs of building works has meant it hasn't been affordable.
The Town Centre Recovery Fund grant, in addition to personal funding, will help bring the building back to life, with a purpose that will attract businesses and jobs to the town.
The funding is being made available through the £21m Stapleford Towns Fund which aims to regenerate and revitalise the town.
Barbara, said: "I've lived, worked and invested in Stapleford for over 30 years and love what the town has to offer. I've seen first-hand the difference that investment can make and it's great that so much money is coming through this grant and the Towns Fund to make it a more popular place to come to, to work in and call home.
"Being able to improve the appearance of the high street and provide new opportunities will have a huge impact and we can't wait to get started as we really want to create something really special for Stapleford."
Ian Jowett, Chair of the Stapleford Towns Fund Board, said: "Barbara's plans to bring this amazing building back to life is just what our town centre needs. We are so pleased to be able to offer funding to support developments like this as we know that it will increase the long-term prosperity of our great town."
---
---