Mayoral recognition for local volunteers
14/11/22- 16 local volunteers were recognised by The Mayor of Broxtowe for their work maintaining Beeston defibrillator.
Some residents may remember that a second defibrillator was installed in Beeston North Ward in August 2021, paid for by Councillor Steve Carr from his County Council Divisional Fund.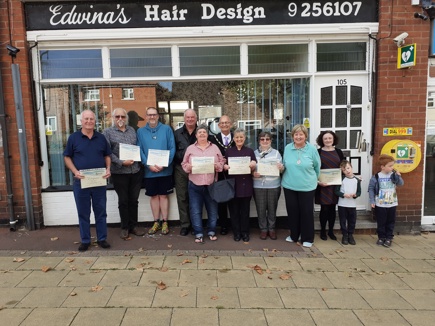 A team of 16 committed local volunteers monitor the defibrillator on a weekly basis to ensure the equipment is operational. Online checking and support for the team is via Webnos System, which is operated by The Community Heartbeat Trust(Opens in a New Window).
Last month  Councillor Steve Carr and Councillor Barbara Carr, showed their appreciation for the volunteers by nominating them for a Mayor's Certificate of Recognition. The Mayor of Broxtowe David Grindell, along with Councillor's paid a visit to the volunteers to award them their certificates at the defibrillator site on Central Avenue.
It's thanks to these volunteers this local defibrillator is up and running, so that it can be used for any emergency without issue.
---
---